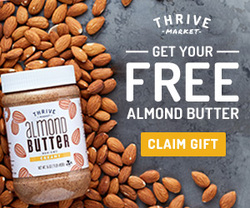 Welcome to our first giveaway of 2017! As promised, we plan to give you something for
free
every month this year. Sometimes it may be valuable information for living a healthier life, or helping you to achieve your most important health goals, such as a free report or e-book. And sometimes it will something more tangible - like a jar of tasty, creamy, non-GMO almond butter!
This month's gift is delicious, creamy, healthy, and contains only one ingredient: Almonds! Skip the additives, unhealthy oils, and sugars, and treat yourself to a rich, creamy, protein-packed nut butter that makes a great alternative to the sugary nut butter "spreads" on store shelves.
See below for instructions on how to claim your FREE jar of almond butter - available only through January 31st, so get yours now!