Daily Spirituality & Personal Growth

By incorporating some form of daily spirituality into our lives, we can learn to be more compassionate, loving, fulfilled individuals. In the same way, we can also become more productive, giving, and influential members of society, making a positive change in the world through our use of daily spirituality and the peace it brings to our lives.
A discussion of a balanced life would not be complete without exploring the spiritual side of our minds -- the side that makes us human and separates us from every other species on the the planet.
Not only are humans the only creatures with the capacity for planning for future events, but we are also the only beings who consistently pursue a some form of frequent or daily spirituality and connection with a higher power.
Cultures the world over, from populous cities to remote villages, from Western Europeans to indigenous African tribes, all known societies of human beings have some sort of daily spirituality, or spiritual tradition.
We believe that the practice of daily spirituality, and a belief in a higher power is an essential part of a fulfilling, joyful life. This relationship can bring a sense of purpose and fulfillment, and also helps maintain important connections within society.
Spiritual practices are many and varied, and can run the gamut from
organized Western religion
, to
meditation and other more Eastern philosophies
.
Whichever direction you choose, adding some sort of daily spirituality to your life can substantially decrease your stress levels, improve your relationships, and increase your peace and satisfaction with life.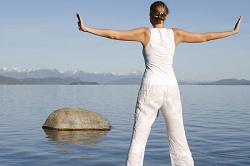 Religion can be a touchy subject for many people, simply because it is so deeply personal. Therefore, we will leave this as a matter of choice as to how you wish to approach the topic, and will just touch briefly on some resources for exploring the topic, as well as seeking a venue or community of like-minded believers that will feel comfortable for you in developing your own practice of daily spirituality.
Personal Growth & Development
Another fulfilling method of daily spirituality can include meditation or self-exploration and growth. Exploring our lives in a holistic way means doing some serious self-examination.
Who are you? Are you the person you want to be? In what areas or ways do you feel you fall short of who you want to be? Only when we make an effort to answer these questions can we truly begin to make changes that will enable us to joyfully accept the responsibility of fulfilling our individual potential as human beings.
---