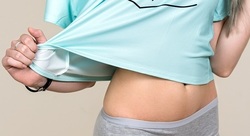 So many of us (even in the natural health world) have a negative view of our bodies.

We aren't happy with their shape, size, or weight. Or even if we are, we complain about aches and pains, treating injuries as if they were a betrayal by our bodies, rather than a response to mistreatment. Or we bemoan the signs of aging we see, like wrinkles, or thinning hair, or loss of muscle tone.

It is as if we view our bodies as an enemy - or at best, a reluctant ally that we just have to put up with throughout our lives.

But your body (yes, even YOUR body) is amazing!

If we were to actually take the time to learn how our amazing bodies work, we might understand them better, and be more forgiving. We might also take a lot better care of them, meaning they might stay healthier - and help us stick around on this planet for a little while longer.

Below are 5 amazing facts about your body. When you read this, take the time to really think about how awesome each of these facts is, and give your body some love and appreciation for all of the wonderful things it can do!