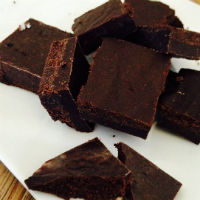 Happy Valentine's Day!
Last week I got all serious on you with my grass-fed rant, so I figured this week I'd mix it up a bit with something fun. I don't usually post recipes here, but this one seemed fitting - after all, what goes together better than chocolate and Valentine's Day?

Unlike your typical store-bought chocolates, which are packed full of sugar (often of the high-fructose corn syrup variety), unhealthy fats, and sometimes even wax (yes, it's true - some of the cheaper varieties of chocolate contain wax as a filler/stabilizer), these chocolates are just the opposite; they're actually healthy!

In fact, instead of all the nastiness listed above, they're full of fiber, vitamins, antioxidants, and healthy fats - and they taste like a rich, creamy truffle! How's that for a Valentine's treat that says "I love you"?

As for our V-Day, hubby and I had a low-key afternoon, with a nice lunch and a bit of shopping, followed by what I'm sure will be an excellent dinner of locally raised natural pork chops (yes, the pig in question lived in a field, rooted in the muddy creek, and ate acorns in the woods), pickled peppers, and roasted, spiced, organic butternut squash.
As I'm a bit under the weather this weekend (my first cold in almost 2 1/2 years), I wasn't up for much, but these chocolates sound like a nice treat, so I may try my hand at these later tonight....
Coconut Chia Chocolate Fudge
(Recipe courtesy of Early To Rise)

Prep time:
15 minutes
|
Chill time:
60 minutes
|
Yield:
25 squares
Ingredients:
½ cup Organic Virgin Coconut oil
½ cup Unsweetened Dutch Cocoa Powder
¼ cup Organic Raw Honey
1/8 teaspoon Organic Vanilla extract
2 Tablespoons Ground Chia Seed
Sprinkle of Sea Salt (optional)
Preparation:
Melt first 4 ingredients in a medium sauce pan (or over a double boiler) over medium heat and mix until smooth.
Add Chia Seed and incorporate well.
Spread into a small glass container and refrigerate until solid (about an hour).
Cut into squares and savor every single bite!
Give them a try, and let me know how you like them!
I wish all my dear readers a wonderful, sweet, happy Valentine's Day filled with love, kindness, and gratitude!

XOXO,
Rose.