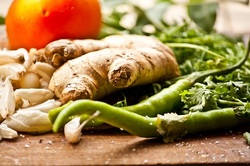 'Tis the season - not just for jolly holiday fun and gifts - but also for colds and flu. That's why this is a great time of year to brew up some natural home remedies to help keep you healthy all winter long!

This ancient recipe was said to be used to keep people healthy during the time of the plague - hence one of its common names - "Four Thieves Tonic." The legend is that a band of thieves used this recipe (or one like it) to avoid the plague when stealing from plague victims - understandably a rather infectious task.

There are many versions of this recipe, which is sometimes called by different names. But I love the name "Fire Cider" - it sounds so warm and invigorating! :-)

The tonic includes a number of health-boosting ingredients traditionally known to fight disease, kill bacteria, and strengthen the immune system. If you cannot find all of these in your area, you may be able to get them online - or omit any that are too difficult to find.

Below are two different versions of this immune-boosting home remedy - pick whichever sounds best to you:

Full Disclosure:
I admit that I have never made this myself; however, a neighbor once gave me some a few years ago when I was sick with a
horrible
cold and cough that just wouldn't seem to go away. I am not sure whether it was due to this tonic or not, but I recovered very quickly after taking it for just 2-3 days!
The two versions below are similar - one is sweet, and one is not. Choose whichever sounds best to you, or whichever is easier to find the ingredients for:
Homemade Fire Cider:
(Recipe from Mountain Rose Herbs)
Ingredients:
1/2 cup fresh grated organic ginger root
1/2 cup fresh grated organic horseradish root
1 medium organic onion, chopped
10 cloves of organic garlic, crushed or chopped
2 organic jalapeno peppers, chopped
Zest and juice from 1 organic lemon
2 Tbsp. of dried rosemary leaves
1 Tbsp. organic turmeric powder
1/4 tsp. organic cayenne powder
organic apple cider vinegar - unpasteurized, with the "mother"

1/4 cup of raw local honey, or to taste

Directions:
Finely chop or pulse your roots, fruits, and herbs in a food processor, and place them in a quart-sized glass jar. (For a smaller batch, half the recipe, and use a pint jar - this will give you a small amount just to try.)

Pour the apple cider vinegar in the jar until all of the ingredients are covered and the vinegar reaches the jar's top.
Use a piece of natural parchment paper under the lid to keep the vinegar from touching the metal, or a plastic lid if you have one. Shake well.
Let sit to ferment in a dark, warm place for one month, shaking jar every day or two.

After one month, use cheesecloth to strain out the pulp, pouring the vinegar into a clean jar. Be sure to squeeze as much of the liquid as you can from the pulp while straining.
Add the honey and stir until well mixed.
Taste your cider and add more honey until you reach the desired sweetness.
Bottle the liquid in a dark-colored bottle or jar with a tight-fitting lid, and store in the pantry or a dark, cool place. Will keep for 6 months to 1 year.

4 Thieves Tonic Recipe:
Main Ingredients:
Garlic
Hot Peppers
Juniper Berries
Rosemary
Ginger
Horseradish Root
Raw Apple Cider Vinegar (with the mother - like Bragg's)

Optional Additions:
Mint
Coriander
Cloves
Cinnamon

Black Pepper
Directions:

- Follow directions above, omitting the honey. This is a loose recipe, so you can kind of customize the amounts of everything to what you have - there is no set rule on how much of each item to add. As long as you have a good mix of most of them, you will end up with a great tonic. You can start out with a small batch just to try it out - just use a smaller jar.

To Use:

Take 1-3 TBs per day during cold and flu season. You may increase dosage to 3-5 TBs per day if you feel you are coming down with something.

If you find this too difficult to take straight, you can also drink it in a glass of water, or use it as a delicious (though spicy!) salad dressing, mixed with a bit of extra-virgin olive oil.

This video from The Grow Network demonstrates how to make the Four Thieves Tonic recipe above: