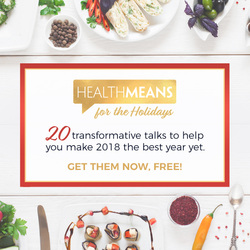 It's time for your monthly free gift, and for December, in honor of the holidays and the New Year ahead, I've got a really special one for you!
With this month's free gift, you can start 2018 off on the right foot by learning the top tips from 20 of the best natural health experts on how to
detox
,
reset
and
transform
your mind and body
for a healthier, happier, more energetic you - and it's all 100% FREE!


Yes, it's a FREE holiday gift...and you can open it
NOW!
:-)
Not only are these information-packed recordings free for you to access, they won't expire in 24 hours like with some of the online health summits you may have attended - you can listen to them whenever you want.

You'll learn little-known tips for detoxifying both your body AND your mind for better health, both physical and mental. You'll discover how to use herbs for natural healing, how to sleep better, how to lose weight almost effortlessly by eating real foods, and exercising the right way. You'll learn how to manage depression using functional nutrition, how to raise healthier, happier kids with the practice of mindfulness, how to balance your health and mental well-being for more energy and increased enjoyment of life. And much more!

Head on over to this page to grab your "FREE 2018 Expert Health Kit" now, or read more below for more details...

I know it can be a struggle to find the time to learn from so many great health resources out there, especially around the holidays. Fortunately, these 20 talks are yours
indefinitely
. Meaning, you'll have access to learn from them at your own pace - whenever it suits your schedule.
The goal of this amazing resource is
to make 2018 your healthiest year yet!
Learn incredible health wisdom and insights from such well-known experts as:
- Katie Wellness Mama
- Dr. Josh Axe
- Sayer Ji
- Dr. Deanna Minich
- Pedram Shojai
- Dr. Andrea Nakayama
- And so many more!
Go grab your free holiday gift now
, an you'll gain immediate access to
all 20 expert talks
, and retain access to them
indefinitely
so you can learn and make changes to your life at your own pace. There's
no catch
.
No
purchase required. And
no
commitment necessary.
These well-known natural health experts will cover such important topics as:
Getting a silent night of sleep
Top supplements for your wish list
Serving "real food" to your family
Detoxing (especially for your holiday liver, if you know what I mean!) :-)

Post-party weight loss tips & strategies that work

Finding more energy (and more peace) every day

Addressing depression through functional nutrition

Planning your (2018) potential
Understanding why YOU matter!

Even if you don't have time to learn all this today, you'll want to
lock in your access to these talks NOW
, and listen when you have time, as this special giveaway won't last forever.
Enjoy a happy and healthy holiday season!
Rose.
P.S. This gift will only be available for a limited time, so be sure to
lock in your free access to these talks today
!