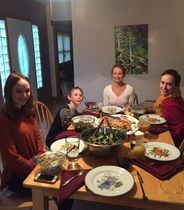 It's that time of year again!
Yes, it's time for my annual Gratitude List - the time of year when I reflect on the many blessings I have received over the previous year, and give thanks for the abundance of goodness I have experienced this year.

While I am grateful for many of the same things every year, each year I find there is a certain area of life I am especially grateful for. It is always interesting to me to review the previous year's list, as I find that my focus has changed over the past year as I have learned to appreciate new and different things.

This year's focus has been a bit different from last year's, as I've really been realizing just how important some of these amazing people are to me...

2017 was a wonderful year, despite a challenging garden season. It was also an extremely busy year, and I'm feeling a bit shocked to find that it is almost over... One thing that I have become especially grateful for this year is all of my wonderful relationships. I don't know if it is just a side effect of getting older, or if it's just that I am realizing the preciousness of those who may not be around forever, but I definitely feel an increased appreciation for my loved ones and their presence in my life.
Without further ado, here are the 3 biggest things that I'm most grateful for this year:
1. My Amazing Family
I don't usually get to see my family all that much since they live so far away, but this year I was extra blessed with lots of Hillbrand presence!

Since we went to Jamaica in the spring, my husband and I decided not to take any summer vacations this year, so I decided to surprise my mom for Mother's Day, since I wasn't sure if I would see her again until Christmas. With the help of my clever sisters, we planned a lovely 5-day visit, where I also got to spend some extra time with each sister before jumping out of a box to surprise my mom! (Well, I didn't exactly jump, but she was plenty surprised enough.) :-)

I read stories and explored the interior of a large box with my 3-year-old nieces, visited with my sister and a mentor and friend of ours from college, and took lots of mosquito-filled walks. I then spent a night with my writer sister, chatting about the challenges of writing and life, wandering a wooded trail by the creek on their property with my nephew, and weeding her garden in the warm sunshine. The last 2 days were spent with my mom and dad and youngest sister, and it was very special to enjoy that time with them.

Much to my surprise and delight, there were more wonderful family times to come...

In July, we enjoyed a visit from my aunt and cousin, who drove down from visiting other family in Detroit to see our place and spend the night with us. We had a lovely evening of laughter and fun over a game of cards that lasted into the wee hours, and it was wonderful to see them and catch up with their lives.

And in the fall, my youngest sister graduated with her Occupational Therapy degree and got her first job...in Ohio! My mom traveled up with her to get her settled in to her temporary digs in Southern Ohio, and they spent a week with us during the transition. Being only a couple of hours away from a family member for a while has been awesome! We saw her again later in the fall, and she spent Thanksgiving with us as well. My mom, middle sister, and nephew also drove up for the holiday and spent a few days with us enjoying lots of delicious food and fun.

I will be traveling to Arkansas for Christmas to see everyone again in just a few weeks, so it has been quite a wonderful year filled with familial love!

Speaking of familial love, of course I can't forget my now most immediate family - my wonderful husband! :-) Every year has its ups and downs, and 2017 was no exception. But as I mentioned last year, it seems that our marriage continues to become richer and deeper with each passing year. I can no longer even picture the single life I once sometimes missed. He is my other half - my love - my family of my own choosing. I am so grateful that he is my mate in life.
2. My Wonderful Friends

Although this busy and often-stressful year didn't leave a lot of time for socializing, the times I did have with my dear friends were incredibly precious. A couple of my first friends I made in Ohio are retiring and moving away next spring, so the times I have had with them this year have been extra bittersweet. It has become an annual tradition to visit their home the weekend after Thanksgiving and help them to decorate their Christmas tree. A once quiet and small affair has developed into a larger party over the years, but I haven't missed one in at least 13 years. In fact, one year they were on vacation for Thanksgiving weekend, but I was housesitting for them while they were gone, so even that year, I at least brought the Christmas tree upstairs and set it up in the living room! Realizing that this year's event would be the last one was surreal and emotional for me. Their house was almost like a second home to me for so many years... I have spent more hours in that house than just about any other place in Ohio other than our current house and my last apartment. We plan to visit them in 2018 of course, but it will be a big change...

In the fall, we attended the wedding of a good friend and former roommate of mine whom I hadn't seen for a long time. She looked so beautiful and it reminded me of all the wonderful times we had when she lived closer, and it was sad to realize how far out of touch we have drifted over the years.

Even my "bestie" - who doesn't live all that far away - has been a bit neglected this year...

One resolution I will be making for 2018 is to stay in better touch with the wonderful people I call friends, and make sure they know how important they are to me. While I always plan to spend more time with them in the future when I have more "free time," all the free time in the world won't matter if I no longer have friends to spend it with! Things change, people move away, and I am realizing that I need to make it more of a priority to appreciate the presence of those I love in my life - while they're still around.

3. My Beautiful Home

When we got married and bought our house, I remember a good friend saying it would probably take about a year to feel at home here. For me, it was more like 2. I'm not sure why - probably just because we didn't immediately make a lot of changes to the house to make it feel like ours...

But within the past year, I have really come to love and appreciate our home. Even though we've only really updated two rooms so far, and I am constantly thinking about all the things I want to work on to make it OURS, it has completely become "home" to me.

I know the angle of the sunlight through the skylights in the loft, the creaks of all the squeaky boards in the kitchen floor, the view through the maple tree from my office window in all seasons. I love looking at it from the garden - with the sun glinting off the gable windows of the loft, the new deck finally stained a beautiful weathered walnut color, the dog sleeping against the back door in a pool of sunlight. When I'm away I miss it. When I'm here, I feel like it's where I belong.

People complain about all the work that goes into home ownership, but for me, it's all totally worth it. It's work on something you love - something that is yours - something that somehow becomes a part of you, at the same time that you are a part of it...

I look forward to all the many planned developments and additions to our home in the future - including a pond for the frogs to sing in in the spring, clean wood floors to replace the dingy old carpets, and a fresh coat of paint in our chosen colors in every room. But already it is mine. It is ours. It is HOME.

I am so thankful that I get to live in such a beautiful home, on a wonderful little piece of land. I am thankful for the cozy, warm fireplace (I've even come to enjoy that gas fireplace smell), the gorgeous bookcase my husband built for me this summer, and our lovely green bedroom. I feel lucky every time I see the piles of beans and onions drying in the sunny loft. Our blessings are many, but for me, a home that feels like home is one of the things I'm most thankful for this year.

Of course, there are hundreds more things I could list here, but the above 3 are the big three for this year. What are you most grateful for in 2017?

Share your thoughts with me below, or on the Facebook page!

Until next week, count your blessings, focus on your gratitude list instead of your stressors, and try not to spend too much on your holiday shopping! :-)

Rose.