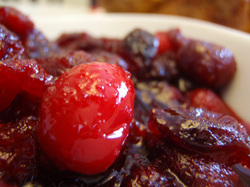 This is the week when families gather to spend time together enjoying delicious food and sharing their blessings with those they love. I am fortunate to have part of my family coming to spend Thanksgiving with us this year for the first time since we got married, so I am very excited, though still have a lot of preparation to get done before they arrive on Wednesday...

Our Thanksgiving table will be filled with a bounty of goodness - more from our own harvest every year, or at least, that is the hope! We have plans for the usual turkey and stuffing, with carrots and onions and celery from our own garden, plus our own mashed potatoes with homemade turkey gravy, loads of mixed greens from the garden, green beans that I froze from the garden this fall, homemade sweet potato pie with my mom's sweet potatoes, and a blended salad with my mom's lettuce and our arugula and fresh radishes.

And of course, we can't forget the cranberry sauce! Cranberry sauce is an essential ingredient for me when it comes to Thanksgiving dinner. I'd almost forgo the turkey in favor of cranberry sauce if I had to choose! :-)

Of course, cranberries don't exactly grow here, so these will always have to come from elsewhere, but I can still put my own twist on them. In fact, I recently heard about naturally fermented cranberry sauce, so of course, I had to learn more! As you may know, I've become kind of obsessed with fermenting things over the past couple of years... :-) Not just because of the many health benefits, but also because of the important place that this almost-forgotten art holds in human history - and lastly, because fermented stuff is just so darned delicious!

I had never thought of fermenting cranberries, but I have been in a flurry of fermentation this fall, and I feel like I'm really starting to get the hang of it, so why not try something a bit more advanced? I'm still mastering ginger ale and hard cider, but I feel like I've got the veggies down. Right now we have 2 batches of sauerkraut, a half-gallon of kimchi, a quart of pickled pepper salsa base, and a quart of mixed vegetable antipasto (100% from our garden except for the olives) all stashed in the fridge.

I'm not sure if this recipe will have time to ferment by Thanksgiving this year, but I will definitely be trying it soon!

This recipe is adapted from
GrowForageCookFerment.com
. When I make this, I will make a couple of changes. First of all, I always feel weird using a milk product in fermentation (not sure why, it just seems weird), so I don't usually use whey in my ferments. What I do use often when fermenting fruit-based things is a
ginger bug
, which I think would be perfect for this recipe - especially since it already contains ginger! However, since it has honey and raw fruit in it, it should ferment on its own without the culture - it will probably just take a few days longer. I would expect it to take a week to 10 days to ferment without any added culture - depending on the temperature. If you have someplace warm (above 70) to put it, it should be ready in less than a week.
Secondly, I would really urge you to use organic cranberries if at all possible, not only could they ferment better (sometimes non-organic fruit is treated with fungicides to keep it from spoiling, which could mess with your ferment), but I was also reading recently about how bad
conventional cranberry farming
is for the environment. Organic cranberries can sometimes be found for not much more than the regular kind, especially since you're likely not going crazy and buying pounds and pounds of them. Spend the extra buck for a bag of organic - it's worth it.
Lastly, as with any ferment, be sure to use non-chlorinated water. If you're not sure you have a clean source, use bottled! Otherwise, you will end up with a nasty mess, instead of a yummy, healthy lacto-fermented treat.
Without further ado:

Naturally Fermented Cranberry Sauce
(Makes about 1 quart.)

Ingredients:
12 ounce bag of whole cranberries (I recommend organic)

juice from 2 tangerines or 1 orange
hunk of ginger, grated
2 Tbsp raw honey or maple syrup
1 Tbsp brine (from another ferment) or whey (optional) (OR 2 Tbsp active ginger bug)

1/2 tsp salt (Himalayan or unrefined sea salt)
1 cinnamon stick
3 whole cloves
unchlorinated water
Instructions:
1. First, you will need to smash the cranberries slightly to break their skins and allow the fermentation process to begin. Some recipes suggest pulsing them in a food processor, which you can do if you like. If you prefer whole berries, just crush them slightly with a potato masher or the bottom of a pint mason jar.

2. Pack the berries into a wide-mouth quart jar. Add the whey/ginger bug/brine - whatever you are using as a culture (or skip it to let it ferment naturally by itself).

3. Add salt, cinnamon stick, cloves, and grated ginger.

4. Add the orange or tangerine juice, and then the honey or maple syrup.

5. Fill the jar with non-chlorinated water up to about 1" below the rim.

6. Put a tight-fitting lid on the jar and shake until everything is well combined.
7. Now you will want to weigh the cranberries down with something so they will stay beneath the surface of the brine (otherwise, mold may occur). Some fermentation kits come with a weight for this purpose. If yours doesn't, or if you don't have a fermentation kit, you can also use the ziplock bag method (described below). Once you have your cranberries securely submerged in the brine, attach your lid and airlock.

7a. If you don't have a fermentation kit with an airlock, you can achieve the same result with a ziplock bag. It's a little messier, but still works just fine. Take a smallish ziplock bag (no larger than quart size), and open it. Insert the bottom of the bag into the mouth of your quart jar. Fill the bag with filtered water up to the lip of the jar (though it won't be touching your brine, you still want to use non-chlorinated water just in case anything leaks - or at least I like to), making sure that the bag seals securely to the top of your brine, and there are no air pockets. Zip the bag closed.

8. Set the jar in a dark location between 65 and 75 degrees (the cooler end of this range will ferment more slowly; if it's over 70, it will be ready sooner). I highly recommend setting the jar in a bowl or saucer - especially if you are using the ziplock bag method, as leaks can occur as the fermentation begins to bubble. Depending on the temperature in the room and the type of culture you used, it should be ready in 5-10 days. Taste after 5 days, and see if it is tangy and bubbly. If not, leave it a few more days.

How do they taste? Well, according to the recipe creator,
"...to my surprise they were quite mellow and pleasantly fizzy. Somehow the fermentation process took out all of the astringent and sour bite that fresh cranberries usually have... Before serving to a crowd, I suggest adding a little drizzle of honey or maple syrup at the table, just for a touch more sweetness and a gorgeous presentation."
I can't wait to try them! If you make them before I do, let me know how they turn out! :-)
I will be back next week with my Annual Thanksgiving List, but in the meantime, have a wonderful, safe, and blessed Thanksgiving!

To your health,
Rose.

Recipe Source: www.GrowForageCookFerment.com.