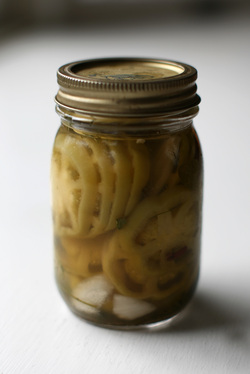 We're back!! Whew! Sorry for the long, unplanned absence... If you're a newsletter subscriber, you may know that our site access was impacted by Hurricane Harvey (though we are nowhere near Houston, apparently, our web servers are). While fortunately, the site remained available to our readers during this time, I have been unable to log into our website for 3 weeks. The good news is that for those who are subscribed to our weekly updates, we were able to continue to provide you with great recipes, workout ideas, and health and gardening tips via email. If you haven't subscribed yet, be sure to do so via the form to the right - this way if this ever happens again, you won't be left out of the loop!

Anyway, on with the show!

Over the past few weeks, our oddly cool August has transitioned into an even cooler September, with temperatures so low at night I actually considered trying to cover some of the remaining summer garden! However, we didn't quite hit frost-like temperatures, so although the tomatoes and peppers aren't too happy with me, at least everything is still alive, and hopefully, will continue growing/ripening for at least a few more weeks. But if a frost had actually threatened, I would have been left with a LOT of green tomatoes on hand.

If you're in a pickle with too many green tomatoes, it can be a bit challenging to figure out what to do with them all - after all, there are only so many fried green tomatoes a person can eat, right?

Refrigerator pickles to the rescue!

The recipe below is a great way to preserve some of those green beauties for later use. This recipe is not canned, so these will need to be stored in the refrigerator, but they should keep for several months. These are easy to make, and absolutely delicious! Check out the recipe below, or bookmark it for later if you're not quite ready to pick your green ones just yet...

This recipe is adapted from one by chef Renee Erickson. out of Seattle. You can use any green tomatoes for this recipe, but you will want to make sure they are fully green. If they are starting to turn color - even a little - the pickles will turn out mushy.
You can also modify this recipe to use small tomatoes, such as green cherry tomatoes. In this case, you can pickle them whole, and cook them only for 5 minutes.
If you like sweet and spicy pickles, you can also add a diced (or whole)
jalapeño pepper with the tomatoes before you add the brine - feel free to modify to suit your tastes - following the exact recipe isn't as important as with canned pickles since these will be refrigerated.
Quick Pickled Green Tomatoes
Ingredients:
1 ½ quarts white wine vinegar
4 cloves garlic, sliced thin
2 pounds green beefsteak or other large green tomatoes, sliced into wedges or slices ½- to ¾-inch thick
½ cup fresh tarragon leaves, stems removed
Directions:
1.
In a stainless-steel saucepan, combine the vinegar, sugar, salt, and garlic. Bring to a boil. When the sugar has dissolved, add the tomatoes. Simmer over low heat for 5-10 minutes, or until the tomatoes are tender but not mushy.
2.
Strain the tomatoes, reserving the liquid in one container and tomatoes in another. Add the tarragon to the liquid. Refrigerate both until cool, then combine. Spoon into lidded glass containers and refrigerate for up to 3-4 months.
How to Eat Them:
There are many ways to enjoy these tomato pickles - from straight out of the jar, to topping a burger, and more. You can use them in place of any sweet pickle or relish. Or you can also serve them as a snack with crackers, cheese, olives, and other finger foods.
Got other ideas? Feel free to share them with us on our
Facebook page
!
Enjoy!
Rose.

Recipe Source: Rodale's Organic Life