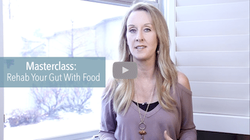 For this month's free gift, I'm sharing an awesome video "Masterclass" on achieving real health with whole foods. It's presented by one of my favorite natural health authors, Robyn Openshaw, also known online as "
The Green Smoothie Girl
."
In this eye-opening
free
class, Robyn explains some of the major health issues facing us today (inflammation, gut health, and more), and how you can combat these issues naturally via your diet.
Read more below to find out more about this special online class, and how you can attend for FREE for a limited time...

When I started getting serious about my health years ago, I had to learn a lot about
inflammation
. Why? Because inflammation
is
disease. It's at the root of all illness. And yet, the vast majority of us have no idea which foods cause inflammation, and which foods heal it!
In the
Whole Foods Masterclass
, you will learn the basics of what you need to know about inflammation, and what your food has to do with it, in just 17 minutes. You will also learn 3 foods that
cause
inflammation (avoid these!), as well as 7 foods that
fight
inflammation.
You will also learn why it seems like everyone in America is talking about gut issues these days... From indigestion to bloating, stomachache, food reactions like headaches, and more, virtually everyone seems to have some sort of digestive problem.
But, as Robyn explains in her Masterclass, all this suffering is simply unnecessary - and it has everything to do with what you're eating... (And NOT eating)...
One of the sessions in the Masterclass is "
How to Heal Your Gut With Food (and Just A Few Dollars)
" - so you'll definitely want to check this out if you suffer from any sort of digestive issues!
Finally, Robyn will address a common complaint that we often hear from people trying to eat healthy - "
healthy foods are just so expensive!
"
However, Robyn will explain in the class how eating whole, unprocessed foods might actually be the
cheapest way to eat
!
In this free class, Robyn shares her story of h
ow she converted from the Standard American Diet to a whole-foods super-healthy diet - without breaking the bank. In fact, she lost 70 pounds (and ditched 21 diseases) 20 years ago. And now she teaches others how to do the same - on a budget!
Here's the lineup of the incredibly valuable information that you will learn in this FREE Masterclass:
•
How to Rehab Your Gut With Food (and Just a Few Dollars)
• Beat Your Food Addictions In
4 Days Flat
!
• My 5 Best Tips to
Eat Super Healthy, Super Cheap
!
• Make
12 Simple Shifts
In One Year (For the
Healthiest Year of Your Life
)
•
Bonus Video
: How to Get Your Partner / Kids On Board With Healthy Changes
Robyn has helped millions of people recover their health eating the
RIGHT
whole foods. I highly recommend you check out this FREE Video Class while it's still available.
Register Here for the Free Masterclass...
Enjoy!
Rose.