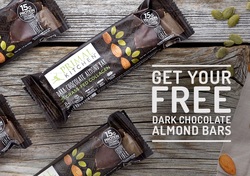 Ahh - July...it's hard to believe the year is half over already! We have been enjoying some warm and sunny weather, and the garden is going bananas (see
last week's post
for more about that craziness). We are looking forward to the annual 4th-of-July barbecue, fireworks, and outdoor concert with some dear friends on Tuesday. I wish you a safe, happy, and memorable holiday as well!
But now, on to the monthly giveaway!

This month, we're excited to share a tasty treat from our friends over at Thrive Market. If you're not familiar with Thrive yet, they are an online marketplace where you can find all sorts of healthy organic foods and other products at lower prices than at most other stores. They also have an awesome mission of helping lower-income families afford healthy food, and supporting sustainable farmers and food producers - a cause that as you may know is very near and dear to my heart!

Below are a few more details about Thrive Market, plus a link to grab your free box of delicious Primal Kitchen organic dark chocolate almond bars. Wait a minute - candy that's good for you?? That's right! :-) Get yours below...

Making healthy eating decisions means being selective about the types of foods you eat and buy—but that can also mean multiple trips to different grocery stores just to keep your favorite products stocked. Not to mention the high markup you'll face on many high-quality food brands.
Fortunately, there's a better way. Thrive Market takes the hassle out of healthy living so that organic food and natural products are accessible to everyone. Thrive offers a wide selection of organic, healthy and nutritious foods and nontoxic home and personal care essentials at discounted prices—all delivered right to your door. Here are just a few of the perks you can enjoy when you shop with Thrive Market:
All of your favorite brands shipped to your door—no multiple grocery trips necessary: Shop trusted brands like Tom's of Maine, Bob's Red Mill, Annie's Homegrown, Seventh Generation, Spectrum Naturals, and many more!


Find exactly what you need: The site and free app make it easy to shop by dietary need with specialized search filters, like "Paleo," "vegan," "raw," and "gluten-free."


Save money on top quality products: Find your favorite brands and health products offered at lower prices than in supermarkets and specialty health stores.

For the month of July, get a FREE 6-Pack of Organic Dark Chocolate Almond Bars
with your purchase!

Just give Thrive Market a try today and you'll get a FREE 6-pack of these delicious chocolate bars. Primal Kitchen Dark Chocolate Almond Bars contain collagen, healthy fats, fiber, and 15 grams of protein—unlike the sugary, overly processed alternatives out there. They're also grain- and dairy-free, and made from ingredients you can easily recognize—no artificial additives here!
Ready to sink your teeth into one of these chocolatey, chewy delights? Well, you're in luck!
Just Click Here to Claim Your FREE Box of Dark Chocolate Almond Bars Now!
The offer is yours free with any $29 purchase, and you will also have 30 days free to check out Thrive Market's great selection and prices.
Enjoy - and celebrate your freedoms this Independence Day - we never know how long they'll last...
Rose.