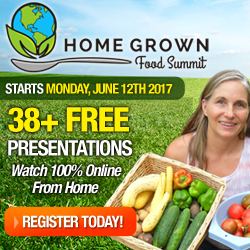 Welcome to June! For this month's "free giveaway," we're handing out tickets to an amazing event that anyone who is interested in real health, self-sufficient living, or making sure that the food you feed your family is safe and healthy will NOT want to miss!

That's right - registration is now open for the
3rd annual Home Grown Food Summit
.
This awesome event kicks off Monday, June 12th, and it includes presentations from more than 38 experts on food, homegrown and natural medicines, homesteading,
urban gardening, raising livestock for dairy, eggs, and protein, and many more health and self-sufficiency topics - plus, you'll have the opportunity to win some really cool prizes for your homestead! (See below for details.)
Get your FREE Ticket here
, or learn more about the event below.
Here are a few things you may want to know about the Homegrown Food Summit - especially if it's your first time attending.
1. You don't have to go anywhere to learn all of this valuable information. This is a 100% online event, so you can watch all of the presentations from the comfort of your own home - no traveling or expensive plane tickets required!
2. The event kicks off Monday, June 12th, and will run for 7 days, with 2 encore days at the end to give you time to catch up on any presentations you may have missed.
3. The event will include over 40 hours of video presentations for you to enjoy, including topics such as:
How to grow veggies 3X FASTER than the typical garden.
Farming in an urban setting -- growing vegetables, fruit, nuts, eggs, milk, meat, and more.
SUPER FAST compost -- how to make compost in just 18 days!
How to stop CRITTERS from eating your veggies!
How to buy the perfect greenhouse; an insider tells you what to look for.
Milk donkeys? You bet! Everything you need to know about keeping donkeys for milk.
Tree pruning for dummies -- the basics ANYONE can master.
How to grow 75% of your food in less than 10 hours per week!
And much, much more!

However, although the event is completely free to attend, you must register in advance to reserve your free seat for all of the presentations.
Register & Get Your FREE Ticket Here


And before you
email me about this, yes, they will be making recordings of the entire event (including the videos, MP3s, and transcripts) available for purchase as well, in case you miss any sessions, or want to save them for repeat watching and reference.
So if you have schedule conflicts, and you can't watch it during the week of June 12th, you can grab the recordings and watch it on your own schedule.
But you are not obligated to make this purchase, because
again,
this 100% online event is FREE to attend.
But not everyone has 40+ hours to watch during the week.
So the recordings simply ensure you won't miss any of this valuable information.
Register Here to Grab Your FREE Ticket to the event, and mark your calendar for June 12-20th to watch for free online!

Enjoy!
Rose.
P.S. A new addition to this year's event is the chance for attendees to win thousands of dollars in valuable prizes, including:
A sun oven package for outdoor cooking…
3 different composters, including a Worm Factory …
A Kombucha brewing package …
A survival water purification still …
An essential oils distiller…
… And lots more!

You must be registered to be entered in to the prize drawings, and the first drawing happens right after the event kicks off, so be sure to
register early
to get your name in the running to win some of these awesome prizes!