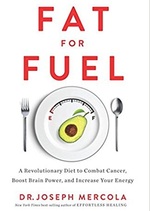 Modern medicine wants you to believe that it holds the answer to disease, but if this is true, why aren't we healthier? In fact, today we suffer more chronic and debilitating diseases than ever before.
More than half
of all Americans struggle with
chronic illnesses
, and 1 in 5 deaths in the U.S. today are obesity-related.
So what is the key to this problem?

Many researchers now believe that the increase in chronic modern illness and disease over the past several decades is
largely the result of an
inappropriate diet
. (Surprise, surprise, right?) Most of us eat far too much sugar (and other simple carbs), and far too little healthy fats and fruits and vegetables.
Part of the problem is that we have been told for years that our bodies should run on glucose for fuel, so we need to make sure to consume plenty of carbs.

However, in the interesting video below, Dr. Joseph Mercola discusses some fascinating findings that suggest that fats are actually the preferred fuel of the human metabolism. By correcting our carb/protein/fat ratio in our diet, he contends that we can maintain long-term good health, especially when it comes to avoiding or even curing modern diseases such as diabetes and cancer.

The interview below with
Dr. David Perlmutter, MD
dives into the key principles of Dr. Mercola's new book, "
Fat for Fuel
," to discover how we can reverse chronic disease and protect ourselves from cancer and other life-threatening chronic illnesses. The book discusses how to correctly and efficiently power your body with fat instead of sugar and carbs, as well as how to implement this kind of diet in order to achieve better overall health.
Watch the video below to learn more about this interesting approach to a cancer-fighting and health-enhancing diet.

About Dr. Joe Mercola: Dr. Mercola is a board-certified family physician who has treated over 25,000 patients from around the world. Dr. Mercola encourages and educates people about safe and inexpensive nutritional, lifestyle and exercise options to radically reduce their risk of dying prematurely from dangerous drugs and surgeries, as well as cancer and so many of our common and largely preventable degenerative conditions.