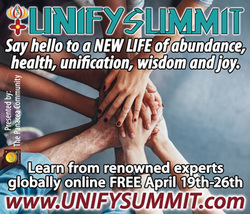 For this month's "Freebie," I've got something really special to tell you about...
While we focus a lot on physical health here, the truth is, living a holistically balanced life is about more than just the physical. In fact, true health comes from leading a rich and happy emotional and spiritual life. That's why I'm so excited to tell you about this week's FREE online event -
The Unify Summit
! And don't worry, this isn't just a bunch of theoretical "fluff" that sounds nice but won't make any practical difference in your life.
This free event will actually provide you with practical, immediate, life-changing action steps you can take TODAY to start living your life with more clarity, purpose, meaning, health, contribution, and abundance!

Sound good?

Click here to register for your free spot, or read more below for more info on what this special event includes...

The Unify Summit features wisdom from a series of experts who have achieved success in many areas of life, from career and finances, to health, relationships, and more. Best of all, you get to take advantage of their hard-earned wisdom - for FREE!
Watch the Video Here for More Information...
Here are just a few of the amazing things you will learn from these incredible individuals.
• How to Live Your Life with More Clarity, Purpose, and Contribution
• How to Cultivate Greater Prosperity and Abundance
• Ways to Experience More Love in Your Relationships and More Vitality in Your Health
• How You Can Make a Difference in the World By Living Sustainably
• How YOU Can Create a Legacy for Future Generations to Come
Get Free Access Today: http://holisticliving.clkpfct.com/go/unify
During this unique event, each of these amazing world thought-leaders will be sharing their unique insights and practical advice for how to live with more abundance, be your authentic self, contribute to the world in a meaningful way, experience more love in your relationships, experience unified consciousness - and much much more!
The event starts this Wednesday, so don't delay - register now for your FREE access pass...
Just
Visit This Link to Attend the Unify Summit for Free!
Enjoy!
Rose.