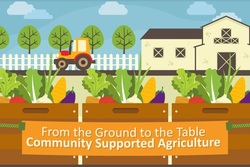 I haven't mentioned CSAs (
Community Supported Agriculture
programs) in a while, but even though we now get the majority of our summer produce from our own garden, we do still participate in a winter CSA program from a local organic farm that uses unheated greenhouses and high tunnel techniques (a la
Eliot Coleman
) to grow fresh greens and other veggies throughout the winter months. They also provide a number of partner items from other local businesses and farms - including apples, honey, maple syrup, natural soaps, dry goods such as beans and flour, and more. Participating in this program allows us to eat mostly local year-round! (We also buy almost 100% of our meat from various local small farms which raise animals humanely on pasture.)
While not everyone necessarily has access to these resources, there are now thousands of CSA programs throughout the U.S., so unless you live in a very rural area, you most likely have at least one near you!
We share some helpful information about Community Supported Agriculture on our
CSA page
, but I recently stumbled across this comprehensive infographic, and thought it might be fun to share it with you... Check it out below to learn lots of interesting and informative tips about CSAs including the benefits of participating, questions to ask when choosing a CSA, and how to make the most of your share, as well as some recipes for using some of the more uncommon vegetables that you may find in your CSA!
Note: We will be taking a blogging break next week to enjoy spring! However, we will be sending out an important email with a FREE resource that you won't want to miss if you care about your health... If you aren't already subscribed to receive our updates, please do so now via the box to the right, so you don't miss out!