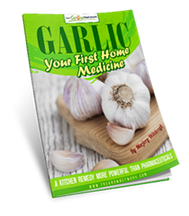 Whew! Things have been pretty serious around here for the past couple of weeks (if you haven't checked out the last 2 posts, I highly encourage you to do so - it's a very important topic for everyone), so I thought we'd take a little break this week with a fun giveaway!
This free gift actually ties in quite nicely with the new model of health we've been discussing over the past two weeks, in which individuals will play a greater role in their own healthcare through learning about and using more natural and traditional means of healing.

You probably use garlic in the kitchen quite often (I know I do!), but did you know that garlic has many healing properties, including the ability to help boost your immune system and fight off infections like colds and the flu?

Learn more below, and grab your FREE copy of this awesome e-book today!
You may have heard about some of the healthy properties of garlic. In fact, not only is garlic often used as an immune booster, but some have even touted its benefits for heart health and blood pressure maintenance.
If you are interested in natural health and natural remedies like using garlic to stay healthy, I wanted to share this awesome FREE resource with you...
It's a
new 18-page report
from Marjory Wildcraft at The Grow Network called
"The Miracle of Garlic."
Inside this wonderful new resource, you'll discover a series of home remedies featuring one of the most potent kitchen cures: GARLIC!
You'll also find answers to all your questions about using garlic as medicine, including:
What's better? Raw garlic vs. supplements?
How much you need to take.
Tips for taking garlic--without smelling like it!
… Plus much more...

There are no complicated recipes to learn, and no weird kitchen gadgets to buy!
In fact, after reading "
Garlic: Your First Home Medicine
" just once, you will understand the science behind garlic's amazing infection-fighting powers, how much you need to take, the best ways to enjoy it, and how to avoid any "odor issues."
After I got my free copy from Marjory, I was so impressed that I asked if I could get you free copies, too.
And she agreed! So for a limited time…
Click Here Now to Get Your FREE Copy of "The Miracle of Garlic"
Oh yeah, and I almost forgot to mention - if you like to garden, the report also comes with a
BONUS VIDEO: "Secrets for Growing Great Garlic."
When you download the special report, you'll also get the bonus video for free!
But don't delay... This special gift won't be available forever, so go
download your free copy
today.
Enjoy!
Rose.