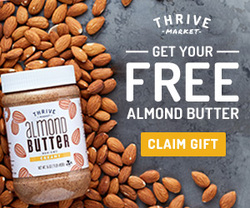 Welcome to our first giveaway of 2017! As promised, we plan to give you something for
free
every month this year. Sometimes it may be valuable information for living a healthier life, or helping you to achieve your most important health goals, such as a free report or e-book. And sometimes it will something more tangible - like a jar of tasty, creamy, non-GMO almond butter!
This month's gift is delicious, creamy, healthy, and contains only one ingredient: Almonds! Skip the additives, unhealthy oils, and sugars, and treat yourself to a rich, creamy, protein-packed nut butter that makes a great alternative to the sugary nut butter "spreads" on store shelves.
See below for instructions on how to claim your FREE jar of almond butter - available only through January 31st, so get yours now!

This month's free gift is sponsored by
Thrive Market
. We are proud to support Thrive Market in their mission to make healthy living and organic food accessible to everyone, everywhere! Thrive accomplishes this by offering healthy, organic foods, and other non-toxic products for up to 50% off retail prices, delivered direct to your door - wherever you live.
If you join Thrive Market, here are just a few of the perks you will enjoy:
25–50% off organic groceries every day: Shop trusted brands like Tom's of Maine, Bob's Red Mill, Annie's Homegrown, Seventh Generation, and many more!

Find exactly what you need: The site and app make it easy to shop by category and dietary need, like "Paleo," "vegan," "raw," and "gluten-free."

You join, you give: When you join Thrive Market, they donate a free membership to a low-income family, veteran, student, or teacher on your behalf.

Guaranteed savings: Your membership will pay for itself in savings within the year, guaranteed. If not, you get the difference in Thrive Market credit when you renew!


How to Get Your FREE Gift: One 16 oz jar of Thrive Market Almond Butter!
Are you a nut butter lover? Well, guess what? You're in luck, because if you give Thrive Market a try today, you get a
FREE jar of Thrive Market Almond Butter
! This creamy spread is non-GMO, and ready to take your rice cake, apple slice, or smoothie to the next level. Each jar of Thrive Market Almond butter is made with only one wholesome ingredient: Just almonds. No added oils or sugars in sight. This is also a great alternative to peanut butter for those who can't have peanuts!
So what are you waiting for? Sign up for a FREE 30-day test drive of Thrive Market today, and get a free jar of Thrive Market Almond Butter!
Click Here to Claim Your FREE Jar...
Enjoy!
Rose.