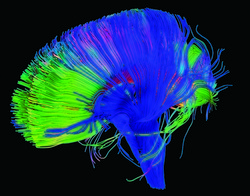 Happy New Year! I'm back from vacation and ready to start a fresh new year - whew! It is good to be able to say goodbye to 2016, and I'm excited to move forward and see what this year has in store... :-)

I thought I would kick off the new year by sharing some interesting research that is being done in the field of neuroscience. We are only just beginning to understand the prodigious power our brains possess, but so far the research has revealed some very exciting findings. While books such as "The Secret" have become popular in recent years, few people truly understand how to use the power of their brains to achieve their most important life goals - or that such a thing is even possible.

If you would like to learn more about how you can use the power of your mind to accomplish your goals this year - whether those goals are in the area of health, wealth, or any other aspect of your life - you will definitely want to pay attention.

For starters, have you struggled financially? Would you like to make more money, but you have no idea why you can never seem to get ahead?
Or, do you have trouble losing weight - or when you do, you just can't seem to keep it off for long?
Are you sometimes crippled by fear and self-doubt, so that you feel like you are stuck in a rut, and just can't ever seem to accomplish the things you want to in life?
If you have often felt like you're always one step away from reaching your biggest goals and dreams, then your biggest obstacle might actually be right between your ears...
That's right - your big ole' BRAIN might actually be getting in your own way!
Why? Because your subconscious just wants you to stay "safe" and play small and do the same thing over and over again. That's what it knows, and that's what it's comfortable with. But it could very well be holding you back from reaching your full potential.
That's why, John Assaraf, CEO of NeuroGym, has put together some amazing information that uses the latest in cutting-edge brain science to help retrain your brain and break free from the fear, negativity, and doubt that have been holding you back.
Best of all, to kick off the New Year, John is sharing this information for
FREE
this week! All you need to do to access these revolutionary virtual trainings is to register for the date and topic that best suit you.
Here are 3 areas where you can benefit from these free online sessions:
Win The Game of Money - and "Shatter Your Financial Glass Ceiling" - Everything you think about money is guaranteed to change when you allow this program to uproot your current "money story" and replace it with a prosperous and powerful mindset of financial stability and freedom.
Weight Loss - Scientific Secrets for You to Lose the Weight You Hate - This is NOT a diet. It's NOT an exercise program. It's a total "belief cleanse" that will allow you to release negative body-image beliefs and allow the fat to flush out of your body. (Once your mind lets it go, your body will too...)

Increase Confidence - Believe in Yourself - Deep-rooted fears will cripple your ability to be truly happy UNLESS you learn to turn that fear into fuel. This program trains your brain to do just that. Imagine what you could accomplish if you had unshakeable confidence in your abilities...


Make 2017 your best year yet.
Click here to check out these three free trainings
, while they're still available, and accomplish all of your most important goals this year!
These free sessions will teach you the scientific, reliable and evidence-based methods that tens of thousands of people just like you are using to change the way their brains work, and help them reach their personal goals and dreams.
I wish you a most excellent 2017, and I'll be back next week with an immune-boosting recipe to keep you healthy during the cold winter months ahead, so be sure to check back soon!
Rose.