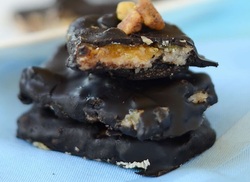 Okay, it's the holiday season and I know you're surrounded by candy and treats at every turn, but most of those options aren't really all that healthy. Of course, eating a lot of sweet stuff really isn't good for us any time of the year, but it's okay to indulge in moderation once in a while - especially if you choose sweet stuff made from natural, whole, healthy ingredients.

If you're craving some holiday candy, but looking for something better (and better for you) than a regular candy bar, I'm here to help you out! :-)

This delicious, ooey-gooey, nutty, chocolatey treat is sort of like a Snickers bar - only better! Skip the processed sugar, waxy chocolate, and additives and fillers, and instead go for date caramel, crunchy nuts, and dark, antioxidant chocolate. Not only are these bars amazing, but they're also really easy to make, so you can whip up a quick batch ahead of time to tantalize your guests on Christmas eve around the tree!

Check out the recipe below to learn how to make these delectable Paleo treats.

Paleo Snickers Bars
Time:
30 Minutes
Servings: 15

Ingredients:
Instructions:
Toast coconut flakes in a dry skillet until golden. Then transfer them to a food processor, and process until a smooth butter forms.
In a food processor, combine the toasted coconut butter, ¼ cup maple syrup, and coconut flour. Process until the mixture forms a dough.
Press into the bottom of an 8x8" glass baking dish.
In the food processor, combine the dates, ⅓ cup maple syrup, and coconut oil. For a few minutes, process until very smooth; you want this very well-pureed.
Spread this mixture over the bottom layer of the glass dish.
Sprinkle evenly with chopped nuts; press them down a little bit into the caramel layer.
Freeze until set.
Remove the dish from the freezer, and cut into small rectangles (for "fun size" candy bars).
Carefully melt the chocolate over low heat; you want it melted, but not hot.
Dip each of the candy bars in chocolate, place on a platter or cookie sheet, and freeze until set.
Store leftovers in an airtight container in the fridge or freezer.
Hope you enjoy this special Christmas candy treat! :-)
Rose.