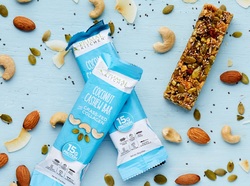 Okay, so I was going to write you an inspiring and uplifting post-election blog post today, but I find I'm still too depressed (and tired) to manage to do it justice today. So instead, I figured I'd just give you something for free. :-)
Everybody loves free stuff, right? And you're really going to love this month's free giveaway, especially if you're trying to eat healthier!

Whether you're a Paleo eater, or just enjoy healthy and tasty snacks, these delicious snack bars from Thrive Market will hit the spot. Grab your 6-pack of these yummy bars here, or click the "Read More" link below to learn a bit more about them first.

There are loads of so-called "nutrition bars" out there these days, but most of them aren't all that nutritious at all. In fact, many of them are full of refined sugars, hydrogenated oils, and artificial ingredients. Nonetheless, many families rely on them as a quick snack that's easy to pack in a purse or lunchbox while on the go. If you're trying to eat healthier, you'll be happy to know that there ARE some healthy alternatives out there.
One good option is Primal Kitchen Coconut Cashew Bars. Not only are these tasty little bars quite delicious, but they're also full of whole, real food ingredients to give you energy and satisfy your cravings without the sugar rush - or other nastiness.
These super tasty little snack bars are perfect for both kids and adults alike, and they only contain 6 grams of carbs plus 15 grams of protein for sustained energy. Instead of loads of high-fructose corn syrup, artificial flavorings, and isolated soy protein, they contain real cashews, coconut flakes, and fiber-rich pumpkin seeds, which are also a good source of Omega-3 fatty acids.


If you have food intolerances, you'll also be glad to know that these bars are gluten-free, dairy-free, soy-free, and Paleo-friendly - plus they contain a whopping 9 grams of fiber!
Ready to give them a try? You're in luck! Thrive Market is giving away
FREE 6-packs
of these bars during the month of November!
Grab Your Free Pack Here...
No matter what you're up to in these busy pre-holiday weeks, you can stay energized on the go, and skip the unhealthy ingredients. Just
grab your free box of these Primal Kitchen Coconut Cashew Bars here
.
Enjoy!
Rose.