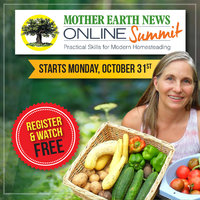 I'm back! "Blogging Break Week" was awesome, and I got to work on a number of projects I hadn't had time to focus on over the past few busy months. I also got a lot of stuff done in the garden, and it was a nice break.
But, a bit to my surprise, I actually missed blogging before the week was even half over! So it's good to be back, and I've been busy lining up all of our regular blog posts for the week.
If you haven't checked out our other blogs, you can find them at
www.sustainablegardeningnews.com
,
www.sustainablelivingreport.com
, and
www.holistichealthwire.com
- come on by and check out some of our articles on these special topics!
I also wanted to let you know about a really awesome online event coming up in just a few days. One of my absolute favorite publications (both online and offline) is Mother Earth News. I've learned so many awesome tips about gardening, homesteading, and sustainable living there! If you're a Mother Earth News fan, you may already know about the annual Mother Earth News Fair. These awesome events provide people with loads of workshops, hands-on-learning opportunities, and the chance to meet many like-minded individuals interested in living a healthier, more sustainable and self-sufficient lifestyle. However, if they're not in your local area, you've probably never had a chance to attend.

That's why I'm super excited that, for the first time ever, Marjorie Wildcraft from the awesome Grow Network has teamed up with Mother Earth News to bring you the first ever ONLINE version of the Mother Earth News Fair - the Mother Earth News Homesteading Summit!
It starts on October 31st, and though you would need to pay a nominal fee to attend a local fair, this one is completely FREE! You just need to register ahead of time, as they will be charging for access to the online sessions after the event starts.
Click Here to Get Your Free Ticket Now
.
The online event will feature over 35 best-selling authors, thought leaders, and leading research institutes, who will reveal their best secrets for modern homesteading and sustainable off-grid living!
When you register, you will receive an email from Marjorie over at the Grow Network with your access instructions plus a schedule for all of the talks, so you can watch them all for free from your own home.
Here are just a few of the topics slated for the event:
How organic gardeners produce 2X to 10X greater yields

Build your next garden beds for $0 (yes, nothing)!

How to grow 75% of your food in less than 10 hours per week

5 ways to achieve food abundance in small urban spaces

Lazy backyard chicken farming secrets

Rainwater Harvesting: turn water scarcity into water abundance

How to get free access to local seed varieties
7 ways to get paid to garden
How to keep predators from killing & eating your livestock

As I mentioned, the event is 100% online and free, but you MUST register in advance to reserve your seat. It only takes 2 seconds:
Get Your Free Ticket Here...
Attendees will also have the chance to win some amazing prizes in the drawing following the event, such as:
A Deluxe Greenhouse for Year-Round Growing
A Sun Oven Solar Cooker

An Urban Gardening Tower
A Beginner Beekeeping Kit

Siskiyou Seeds CSA Memberships
And More!

No matter where you live, if you're at all interested in homesteading, gardening, or self-sufficient living, you should definitely make time to check out this FREE online event.
For a full list of speakers, and to register, go here:
http://holisticliving.clkpfct.com/go/MENSummitNHL
I hope to see you there!
Rose.