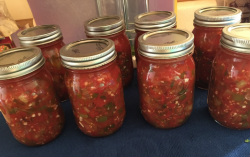 It has been a while since I posted a recipe, and I thought summer would be a great time to share one of my favorite ways to preserve some of summer's fresh garden bounty!

My husband and I both love homemade salsa, but we usually make the fresh kind, which only lasts a couple of days. Last summer, I was so overwhelmed with our incredible tomato harvest that it was all I could do to keep up with just canning plain tomatoes. However, I wanted to try canning some salsa and see how it turned out, so I made just a few pint jars as an experiment, using a recipe I found online.

It was honestly some of the best salsa I've ever had - made even better by the fact that most of the ingredients were from our own garden! This year (after a panicked search for the recipe through my recipe books and Pinterest account, when I finally found that I had printed it out on a piece of paper) I doubled the amount, and perfected my method with a few tweaks.

Here's the recipe (with pictures), plus a few tips for success:

The trick with canning salsa is to get the acid balance right. When canning tomatoes, many experts recommend adding some lemon juice or citric acid just to make sure the acidity level is high enough. However, with salsa, you are adding a bunch of other non-acidic ingredients, which can make your canned version less acidic, and it can be unsafe if you don't have the correct balance. This recipe specifies exact weight measurements to follow, just to make sure you aren't diluting the acidity of the tomatoes too much. You should follow the recipe very carefully, and if you wish vary the recipe (or to error on the side of caution), reduce ONLY the non-acidic ingredients (onions, garlic, peppers), in relation to the tomatoes, and not the other way around.

I only made a half-batch last year, as as I didn't have a kitchen scale at the time, I tried using cup measurements instead, and sticking closely to the ratios provided. Despite the included vinegar, it tasted incredibly sweet - so much so that, in the winter when we opened our first jar, I was wondering if I had added sugar! (It turns out it was just our super sweet tomatoes.)

This year we have a kitchen scale, so I used that and followed the recipe exactly (by the way, it makes the exact right amount for 8 pint jars full). It turns out that peppers don't weigh much, so I way underestimated the amount of peppers last year! However, if you do not have a scale, I would recommend for safety that you stick with the same ratios if measuring by the cup, even though it will be light on peppers.


I find our canning tomatoes this year a particularly gorgeous shade of red! While they are always pretty, this new variety I tried this year is called Nova. While it seems extra-prone to blight (the plants are almost dead already), I absolutely love the color (bright lipstick red), shape (oblong with a cute point on the end), and texture (dense, firm, and meaty, with little juice - perfect for canning). All the tomatoes this year had blight problems (perhaps due to the hot, dry summer?), so I will definitely be giving these another chance next year. They made an absolutely beautiful salsa!

All of the produce in this batch was from our own garden, except for the onions (we grew some, but they're not ready yet), and the cilantro (which did not do well for us this year). However, the bountiful piles of tomatoes, peppers, and garlic are all from our garden. :-)

This is my kind of recipe, as it gives you the measurements, but leaves it up to you which varieties of produce you want to use! We grew tons of different kinds of peppers this year, and all of them (except the habaneros) make an appearance in this salsa.

We included 2 different varieties of bell peppers, lots of sweet banana peppers (which are going crazy this year, so we've been putting them in everything), plus anchos, jalepenos, and anaheims. I stripped some of the veins and seeds out, since I don't like my salsa super hot. It turned out perfect - with just a nice little kick to it.

I used my old "slap-chop" gadget for most of the chopping (except for the garlic), which was super fast and easy, and cut everything into really neat and uniform pieces. However, you could also pulse each ingredient in a food processor, which is what I think I did last year....
Basic Canned Salsa Recipe:
Ingredients:
5 lbs fresh ripe tomatoes
2 lbs fresh sweet pepper/hot pepper combination (to taste)
1 lb onions/garlic/cilantro combination
1 cup apple cider vinegar (5% acidity)
1 Tb canning/pickling/kosher salt
1 tsp ancho chili powder (optional)
Directions:
Core and seed the sweet peppers. Core the hot peppers, and remove as many seeds as you like, depending on how hot you want your salsa. Feel free to trade out sweet peppers for hot peppers, and vice versa. All that matters is that there are no more than 2 lbs of peppers total per 5 lbs of tomatoes. Chop all the peppers coarsely in a food processor, and be sure to check the final chopped weight to make sure you are at 2lbs or slightly less.

Peel and coarsely chop the onion (or pulse in food processor), garlic, and a handful of cilantro. Check your final weight to make sure it is no more than 1 lb.
Wash, core and quarter your tomatoes. Dice finely, or pulse an a food processor to your desired level of chunkiness. Check final weight to make sure it is 5 lbs.
Combine all vegetables with the vinegar, salt, and chili powder (if using - I did not) in a stock pot and bring to a boil. Simmer for 10 minutes after the mixture reaches the boiling point.
Meanwhile (while prepping vegetables), bring water to a boil in a large canning kettle or stock pot with a rack large enough to hold 8 pint jars. Wash jars in hot, soapy water, and rinse well. Immerse jars in boiling water for 10-15 minutes. Remove, using a jar lifter, and drain on a rack or dishtowel. Simmer canning lids in a small saucepan for 10 minutes.
When water is boiling and salsa has simmered for 10 minutes, fill pint jars with salsa, leaving 1/2" head space at the top. Clean jar rims well with a clean towel or paper towel dipped in hot water, then top with canning lids and screw on rings until fingertip tight. Gently lower all jars into the canner. Bring to a boil and process for 15 minutes at a rolling boil. Remove jars and cool on rack or dishtowel until completely cool.
Once cool, remove rings and check your seals. Sealed lids should not pop up and down when you press them with a fingertip. If they are not sealed, store in the refrigerator for immediate use. Clean outside of jars and around the necks with a damp towel.
Store jars (without rings), in a cool, dark place in a single layer. Do not stack jars on top of each other. Check seals (by pressing the top of each lid) monthly. (Discard any that lose their seal.) Use within 1 year.

Canning Tip:
- To minimize wait time and maximize the quality of your finished product, make sure your canning kettle is at a boil before adding your filled jars. I keep my pot at a simmer after sterilizing my jars, then increase the heat about 5-10 minutes before filling the jars. This way you will reach a boil faster, and you won't have to leave the jars in as long, meaning a fresher-tasting product. While not as important when making tomato sauce or salsa, this is paramount when making things like pickles, which you want to retain a bit of crispness.
Source: I'm sorry, but I don't remember where I found this recipe! It may have been Mother Earth News, but I can't be sure....
It always amazes me how many hours it takes to fill just a few jars with canned goods, and this salsa was no exception. However, based on the sample we tried before filling the jars, it will be well worth the effort! :-) The hard part now will be waiting until winter to eat it...

Happy canning!
Rose.