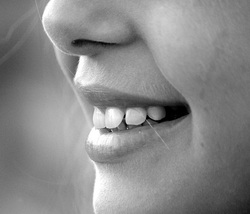 I'm back from Minnesota! It was great seeing the family, but it's also great to be home. My garden is looking a bit weedy, but mostly I'm just amazed by how much everything has grown in a week! Squash and cucumbers are starting to pile up, so I'll be pickling tonight - the first batch of the season, though certainly not the last. :-)

Anyway, I'm super busy getting caught up with everything, so this won't take long, but I did want to share a bit of info today about a topic I don't cover very often: your teeth.

Dental health has recently been linked to several other areas of health, and some researchers now believe that poor oral health can even lead to heart disease and other inflammatory diseases.

Even if you go to the dentist regularly, you may still have issues with the health of your teeth, and this is one area where natural and holistic medicine are often lacking. Though there are "biological dentists," who tend to use fewer harmful substances in their practice, and look for safer alternatives to things like x-rays, there really haven't been a ton of advances in natural dentistry.

But I stumbled across this interesting resource last week, and wanted to share some information that may help you achieve healthier teeth naturally, all on your own...

Did you know that your teeth are actually alive?
Most of us (including dental professionals) treat our teeth as if they were dead pieces of enamel inside of our mouths, but in fact, just like bones, our teeth are living, growing things. If you take great care of them, they can last you a lifetime. If you neglect them, or even if you simply don't know the best ways to keep them healthy, you will likely suffer from cavities and other oral health problems.

If you've been following the advice of your dentist all of your life, but still have issues with cavities, receding gums, bad breath, and/or plaque buildup, you might want to check out this interesting video from Doug Simons, called Alternatives to Dentists.

Who the heck is Doug Simons, and why should you listen to him?

Dough is an herbalist and holistic healer, who has spent nearly 30 years living off the land and learning from primitive peoples in New Mexico about how to stay healthy naturally - including how to naturally care for and nourish your teeth.

He now helps others learn how to take care of their own teeth using natural methods and substances that cost a tiny fraction of what most dentists charge (some are even totally free).

I learned about Doug through The Grow Network, which is an awesome organization that focuses on holistic and natural health practices (I use a lot of their gardening tips, and have learned a lot about health through them as well).

What will you learn in Doug's video?
You will discover a comprehensive system for natural tooth care, including:

A natural system of self-care for your teeth that will cost you next to nothing

How to maintain healthy teeth and correct common tooth problems

How to naturally repair cavities, cracks, and breaks

How to achieve great dental hygiene without toothpaste, floss, or even a toothbrush!
How to naturally reverse receding gums and gum disease

The video also covers specialized topics such as wisdom teeth and root canals, and will even help you understand more about modern dentistry, and why it's lacking when it comes to understanding dental health.
When it comes down to it, you don't need chemicals to keep your teeth and mouth healthy. And you don't need expensive dental procedures (in most cases). All you need is to learn the truth about natural, healthy tooth care.
The ADA reports that most American dental patients spend at least $650 per year on dental care, yet many people still suffer from tooth decay and other oral health issues. If this sounds like you, you should definitely give Doug's methods a try.
You don't need to give up going to the dentist altogether (in fact, I don't suggest that you do), but you can save yourself a lot of pain and money down the road by learning how to maintain your dental health yourself.
I don't recommend a lot of products on this blog, but I feel that educating yourself on this aspect of health is a very important part of learning to take control of your own health care, and this is a great tool to help you do just that.
Learn More About Doug's Methods Here...
And let me know how it works for you!
Rose.