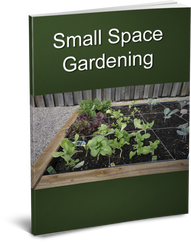 Happy Spring!
In honor of the season, this month we're giving away a FREE E-Book on small-space gardening - perfect for all you gardeners who've been longing to grow something good, but don't have a lot of space to do it in!

No worries - we've got you covered! This short, information-packed report is full of lots of great ideas to help you grow more delicious veggies in less space than you ever thought possible.

Click Here to Get Your Free Small Space Gardening Report...

Here are just a few of the helpful tips you will learn when you grab your copy of this special Free Report:

5 Tips for Growing a Successful Garden In a Small Space With Minimal Effort

How You Can Grow Organic Food That's Safe for You & Your Family to Eat - No Matter Where You Live!
3 Creative Ideas for Bountiful Container Gardens (See Page 16.)

5 Little-Known Small-Space Gardening Strategies That Will Help You Double Your Yield Without Using More Garden Space (See Page 18!)

Using these simple tips, you'll learn all you need to know to be able to grow the awesome garden you've always dreamed of - even if you only have a few square feet of garden space - or even none at all!
(See Page 5.)
Just click the link below for instant access to download this special report now - it's FREE for all of our readers!
It's time to get gardening -
Click Here to Grab Your FREE Small Space Gardening Report Today
!
Happy Gardening! (I'm off to mulch the strawberries and plant some Four-O'Clocks!) :-)
Rose.

P.S. Stay tuned, as next week I'll be discussing a simple trick you can use to increase your productivity, improve your health, boost your energy, and feel better and more balanced in general - it's simple, free, and it's been around since time began, but unfortunately hardly any of us realize its true value to our health and well-being.... Check back then to get the scoop - or subscribe to our weekly updates in the box to the right, so you'll be sure not to miss it!