"All through the morning, they lay in their beds,
While visions of chicken coops danced in their heads...."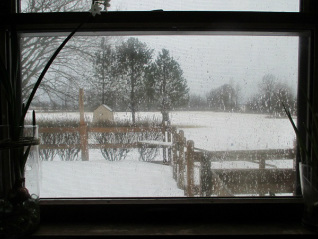 It's only the beginning of February, so it's too early for spring fever, right?? In Central Ohio, we still have at least 2 full months of winter left, but we can't wait for spring! Being in a new home, with acres of farmland lying fallow, and nothing but dreams to sustain us through these cold, snowy months, we are already getting a bit stir-crazy.

I try to console myself by making lists of seed packets, drawing out garden beds in my garden planner, and fantasizing about canning tomatoes and making jam, but it's not much of a consolation prize. I've already planned out exactly what will be planted in each of the 20 bales in our hay-bale garden, as well as another garden patch made with more traditional dirt beds. I've also listed out which seeds need to be started indoors, and when (I still have 2 months before it's time for that), when everything else needs to be planted outside, and where the herbs and flowers will be planted. Seed catalog dreams can only take you so far. At some point you just want to get outdoors!

Yesterday morning I awoke and was unable to go back to sleep, as I began building a chicken coop in my head. Light-weight, portable, simple, and functional, my lovely little chicken coop sits on a patch of grass, surrounded by a mobile fence, which we move every day or two from spot to the next, around our acreage. Our chickens grow fat and healthy, clucking and scratching away, and laying us beautiful golden-yolked eggs every morning.

Perhaps they are preceded in their daily movements by a little lamb pen, so they can incorporate the lamb droppings into the soil, while the lamb gets the best of the grass, and grows fat and sleek - someday to become lamb chops, ribs, and loin. Mmmmmm....

The raspberry patch is tall and green, and raspberries in the late summer and fall will be turned into sweet jam for enjoying throughout the winter months (the batch I made last fall from purchased raspberries has been absolutely wonderful, and I can't believe how easy it was to make! We still have a couple of jars left, but I would like to make a lot more from our own raspberries someday - someday, always someday...).

And of course our beautiful garden grows green and bountiful, watered sustainably with drip irrigation from our big rainwater tanks behind the pole barn.
But then again, this is all just dreams, dreams, dreams. In reality, the "back 40"(5) lies under a blanket of snow (yesterday we took a walk in the crunchy snow and discovered a small and pretty little creek that runs behind our property - so many things I'm sure still to discover!), and all of our dreams are still months away from even attempting to turn into reality.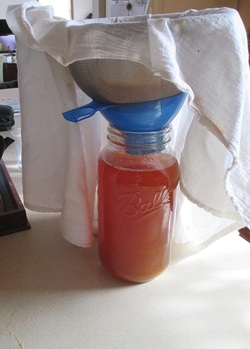 It doesn't help that my husband and I have both been avidly perusing the homesteading issue of
Mother Earth News
, learning about how other homesteaders have built their homes, made them green and sustainable, and grown the majority of their own food. Jealous! (Although I did distract myself yesterday by starting a big, beautiful, golden-brown batch of apple cider to ferment - my second attempt at hard cider, and my first with purchased yeast.... The first batch was a wild fermentation experiment, with overall pretty darn good results, but I'm learning as I go. The apples are from our CSA, juiced with our
Breville juicer
that we got for our wedding - it works great, but probably won't hold up that well for batches much larger than the 1/2 gallon I did yesterday.)
We're also reading a great book that I got for Christmas -
Animal, Vegetable, Miracle: A Year of Food Life
, by Barbara Kingsolver. It's excellent - funny, insightful, and oh-so-tantalizing in her lovely and detailed descriptions of veggies and farm life. (I will post a full review when we finish it.) The Kingsolver's gardening efforts were mightier than ours will likely be, as they had to try to garden in a mountainous area, with very little flat arable land. We are so lucky to have 5 flat acres of farmland! I can't wait to get out there and start working it!
But I guess I will have to wait at least a bit longer.... I will keep you posted so you can rejoice in spring with me - when it finally comes....
Rose.