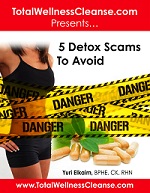 Many people start off the New Year with resolutions to improve their health. Exercise is a common goal, but so is cleansing/detoxing and losing weight. A healthy, safe detoxification program can be a great way to improve your health this year - but you've got to make sure you're choosing the right one. A lot of the so-called "detox" programs out there are at best ineffective, and at worst, actually harmful to your health.

Many of our readers often ask how to find detoxification programs that are actually safe and healthy, so this week, to kick off 2015 on a healthy foot, we're offering all of our readers and subscribers a FREE e-book on how to avoid these scams, and choose a detox program that is actually safe and works naturally with your body to eliminate toxins and improve your overall health. Read on to find out how you can grab your free copy.

This special free report is called "
5 Detox Scams to Avoid
" and it may be of the most controversial health reports you'll ever read! This information-packed report reveals 5 of the biggest detox scams that you must avoid at all costs.
It was put together by one of my favorite health and fitness trainers and holistic nutritionists, Yuri Elkaim. And it's filled with no-nonsense information that you need to know if you're interested in reducing your toxic load and being healthier this year.
Download your copy today, so that you can avoid being taken advantage of by dangerous detox products and unsubstantiated weight loss claims.
Just Click Here to Request Your Free E-book...
To your good health in 2015 and beyond,
Rose.
P.S. This report reveals the 5 biggest detox scams that you must avoid if you're serious about your health. And you'll even be shocked by one of them which has been the cause of massive lawsuits and big-time changes to how websites are now allowed to operate.
Click Here Now to Download "5 Detox Scams to Avoid"...