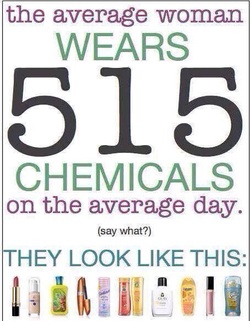 Last week we talked about
9 dangerous chemicals
that are commonly found in the personal care products you use every day. Use of these chemicals has been linked to cancer, infertility and reproductive issues, obesity, hormone imbalance, endocrine system disruption, autism, ADHD, liver and kidney toxicity, and more; yet many people aren't aware of the harmful effects these ingredients may be having on their health.
If you haven't checked out
last week's post
, be sure to do so, and make a list of these chemicals so that you can check labels when shopping and avoid them!
This week we're exploring
9 more
common chemicals that you should avoid - and how to find safer, healthier alternatives, so that you can buy the gift of good health for yourself and your loved ones this holiday season.
10. Glycol (Propylene, Butylene, etc.)
These are synthetic petro-chemical based substances which have been known to cause allergic and toxic reactions in many individuals. They have also been linked to cancer, reproductive issues, neurotoxicity, and endocrine disruption (for more on the importance of endocrine disruptors, see last week's post). These are commonly found in many skincare products, and also (alarmingly), in many foods, such as ice cream. (Propylene glycol is a main ingredient in antifreeze, and is often used in ice creams to give it a softer consistency).

11. Mineral Oil

This is a petroleum-based ingredient used in many moisturizers and makeups, and it creates a plastic-wrap-like coating on the skin, which blocks the absorption of nutrients as well as the release of toxins (remember your skin is your largest detoxifying organ). It can promote acne and other skin disorders, as well as disrupting skin function and cell development, leading to premature aging.

12. Talc

Talc is commonly found in many makeups - especially powders, bronzers, and foundation, where it is used to create a smooth finish on the skin. However, talc is related to asbestos, and is dangerous to inhale; frequent inhalation has been linked to ovarian cancer.

13. Nanoparticles

These tiny particles can consist of several different ingredients, and they are most commonly used to make "natural" sunscreens absorb more quickly into the skin without leaving a white residue. However, their small size means that they are able to penetrate very quickly into the skin, and therefore the blood stream, and may make their way into other organs such as the brain. Their full effect is yet unknown, but until proven otherwise, it would be a good idea to avoid products containing these, which often are not listed on the label unless you live in the European Union, which requires their presence to be disclosed. How to tell if a product contains them? If a sunscreen does not appear white on the skin, its active ingredients are probably in the form of nanoparticles.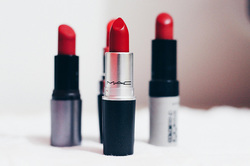 14. Aluminum & Other Metals
Metals are bio-accumulative, meaning that while you may apply products with a small and harmless amount of them, over time, they accumulate in your bones and fat cells, potentially causing future health problems. They are very difficult to get rid of without causing toxic effects, and are often found in antiperspirant deodorants and makeup.
15.
Synthetic Colors/Dyes
Many of the ingredients used to create a desired color in a makeup or skincare product are petroleum byproducts derived from coal tar. They may be contaminated with aluminum and heavy metals, which are bioaccumulators and can be toxic to the brain.

16. Diethanolomine (DEA)

Often listed as Cocamide DEA or Lauramide DEA, these compounds often react with other ingredients to become the carcinogenic compounds, nitrosodiethanolamine, triethanolamine (TEA), and monoetholamine (MEA). These are very common in lotions, moisturizers, shampoos, and conditioners.
17. Formaldehyde Releasers - Diazolidinyl
Urea, DMDM Hydantoin, & Quaternium
These 3 chemicals (as well as others) can combine with other ingredients in many personal care products to release formaldehyde - yes the same stinky stuff that you used to preserve frogs in in biology class. Formaldehyde is nasty stuff which can cause allergic reactions, skin conditions such as dermatitis, joint pain, headaches, and even cancer.
18. Siloxanes
Ingredients ending in "siloxane" are persistent (bioaccumulative) and toxic. The EU classifies some as endocrine disruptors, and states that they may impair fertility. Some may cause uterine tumors and harm to the reproductive and immune systems. Cyclomethicone is mixture which includes 3 siloxanes, and is sometimes found in anti-aging and other skin products.
So there you have it - 18 chemicals to avoid putting on your body in any form. And odds are, you're wearing quite a few of them without even realizing it! After all, just about every product on the shelf in the personal care section of most department stores, grocery stores, or other chain stores and online retailers contain at least one of these....

So what can you do about it? How can you avoid these all-too-common dangerous chemicals without forgoing all of your personal hygiene habits? After all, are you really supposed to go without deodorant, makeup, or shampoo?!? Not at all. In fact, there are more truly safe and natural products being created all the time, although they're not always easy to find. Here are some tips for finding them:

1. The first step is learning which ingredients to avoid, and hopefully I've helped you out with that. Make a list of these ingredients, and those from last week's post, and take it with you when you shop for personal care products for yourself or your loved ones. Don't buy any products that contain these. Be sure to check the ingredient lists of products you buy online as well.

2. Consult websites with lists of safer products, such as the Natural Product Directory, or our non-toxic products page on this website. Pay attention to the ingredient lists here as well though, as some "natural" products may contain a smaller number of these harmful ingredients (such as, for example, Aubrey Organics sunscreens, which we no longer recommend as they contain nanoparticles).

3. Only buy products which are listed as "100% Natural" or "100% Organic." Miessence and Ava Anderson are two such brands. All of their products are completely natural and organic, and contain none of these chemical ingredients. Plus they work great, and most are very concentrated, so although they may cost more up front, they will also last you longer.

For some holiday specials on Ava Anderson's full line of safe personal care, cleaning, and skin care products, use "Party Code"
42532, and shop healthier this holiday season - for yourself and those you love!


Happy shopping, and be healthy, happy, and safe!
Rose.