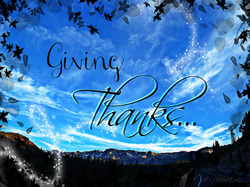 This week, in honor of the season, I thought I'd get a little personal and share some of the things I am thankful for this year! After all, those who have studied success, spirituality, or well-being know that gratitude is one of the most powerful forces for good in the world, with many amazing benefits for those who practice it.
From simple peace of mind and a positive outlook, to humility, improved relationships, and possibly even the ability to attract more good things into your life, gratitude can improve your life in a multitude of ways. And people have been realizing these benefits for centuries; the power of gratitude is explored in works as old as the Bible, all the way up to modern best-sellers such as
Think & Grow Rich
,
The Attractor Factor
, and many more.
I think it's just wonderful that we have a holiday devoted to it!
It's been an amazing year for me, and here are just a few of the things I'm thankful for. Please also feel free to share your own stories of gratitude with us in the comments section below!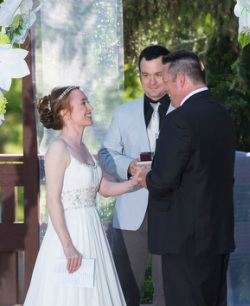 The first thing I'm thankful for this year is financial peace of mind. For me, this has been achieved through faithfully
practicing the Bank On Yourself concept
.
Having a solid savings plan in place has meant the difference between a year of sleepless nights (and probably many more to come), and the peace of mind that comes from feeling in control of my financial expenditures.
Having money I can access when I need it also has given me the ability to have a number of other things I am very thankful for, such as the wedding of my dreams! Being able to use my Bank On Yourself plan meant I could pay for my beautiful wedding without putting my new husband and I in debt as we started our new life together - and that is something that's very valuable indeed.
I can't imagine how stressful this year would have been without having a plan in place to take care of these things. Instead of worrying about money, I got to focus on enjoying the best day of my life (so far), with the man that I love! I thank God every day for putting me on the path to discovering the answer to my financial troubles....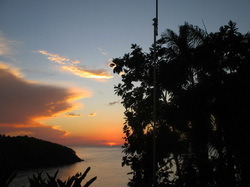 Another thing that my Bank On Yourself plan paid for was our amazing honeymoon! I had never been to Jamaica before, and neither had my husband.

Although we did not get to explore that much of the countryside, our resort was so gorgeous we really didn't feel like we wanted to leave! Perched on a hillside beside the sea, in the midst of acres of lush jungle, our lovely room looked out over a splendid cove, and we had a perfect view of the sunset over the ocean every evening. We had fun exploring the winding pathways through the trees and vines, discovering hidden pools for swimming, and relaxing under the coconut palms on the smooth white sand. The food was also incredibly delicious, and we fell asleep each night to a lovely chorus of tree frogs.

It was the most perfect and romantic honeymoon spot I can imagine, and I am so happy and grateful that I got to experience it with the love of my life!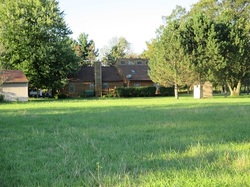 The third and final big thing that I am thankful for this year (although there are also hundreds of little things) is our amazing new house. For years I have dreamed of having a beautiful home and land to build a little family homestead on. I prayed, visualized, dreamed, and hoped (along with shedding a few tears at the thought that it might never happen), and this year, my dream came true! Not only is the house absolutely perfect for us (although not without its flaws that every old house comes with), but we have 5 beautiful acres of farmland, and the location is far better than I ever imagined.

I am over the moon with excitement to start gardening and planting in the spring, and will spend the winter planning and dreaming about where to put fruit trees, grape vines, garden beds, and more. We have truly been so blessed!

I am also thankful for so many other wonderful things - my loving husband, our sweet dog, my amazing family, the fabulous group of people that I work with, a steady paycheck, the beautiful summer we had, and so much more.

I thank God every day for all that He has blessed me with, and will do my best to live up to the wonderful things He has entrusted me with this year, and in the years to come. Thank you, thank you, THANK YOU!

And thank you, dear reader, for reading our blog! We'd love to hear from you - feel free to comment below and let us know what you're thankful for - or drop us an email anytime!

Have a wonderful, blessed, and healthy Thanksgiving!
Rose.