We're back!! Jamaica was amazing - beautiful, relaxing, and fun - everything a honeymoon should be.... I'm still getting caught up on all of the things I missed while gone, so I don't have a long rant or expose' for you today. Instead, I thought I would review for you one of my favorite food-related movies I have seen; it's called
Fresh: New Thinking About What We're Eating
. It's definitely worth a watch, and here's why.
I watched the documentary film, Food, Inc. a few years ago, after it was recommended to me by several different people, many of whom described it as "shocking," "appalling," or "you'll never look at food the same way again." While I'm sure they felt that way, it didn't do much for me. Already being familiar with so many of the atrocities committed by our industrial food system, the film contained little that was new to me, and I was left wanting more.

For me, Fresh is that "more." In a way, Fresh picks up where Food, Inc. left off.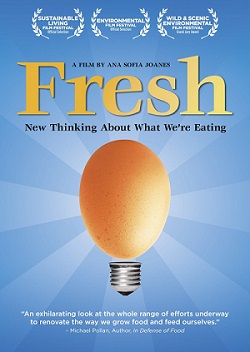 While Food, Inc. aimed to expose some of the "secrets" of the industrial food industry, and open the eyes of the general public to what is really going on with their food behind the scenes,
Fresh: New Thinking About What We're Eating
takes a more positive approach. While the film does touch on some of the major problems of our industrial method of food production, the main focus of the film is on forward-thinking individuals and businesses who are modeling successful and sustainable alternatives for producing and distributing our food.
First off, Fresh describes (with vivid and beautiful pastoral scenery) the sustainable farming model of PolyFace Farms, with a visit to my favorite friendly grass farmer, Joel Salatin. Salatin is well-known for successfully creating a sustainable small farming model for raising healthy animals in their natural habitat, on their natural diet of grass. His animals live healthy, happy lives, roaming the rolling pastures of his farm, without the abuses of factory farming, and he has written several books on how other farmers can successfully do the same. (For more on PolyFace Farms, see my previous posts relating to The Omnivore's Dilemma.) PolyFace Farms serves as an excellent example of what is possible when you work with nature, instead of against it, and how much better food can be when it is raised right and treated with respect. I am continually inspired by what Salatin - and others like him - have been able to achieve.

The film also visits some other sustainable farmers using similar methods to raise pigs and other livestock in a healthy, natural manner which is better for the animals, the environment, and the consumer (you and me).

We also get to meet Will Allen, founder of GrowingPower.org, an amazing and inspiring urban farming organization that teaches people in inner-city Detroit how to grow their own food organically and sustainably. Will's story is one you've got to hear! For a brief overview of Will's organization, check out this short video on our Sustainable Gardening blog.

And of course, along with growing food, and teaching others how to grow it, we can't forget those who work hard to distribute it to us. The film also introduces us to a co-op founder and small local supermarket owner who are passionate about connecting local, sustainable and organic farmers and their food with people who want to buy it.

I have watched this film more than once, and each time I come away inspired, challenged, and full of ideas on how to help more people learn the truth about the food they are eating, and how to take responsibility for their own health and the health of the planet where all of our lovely and delicious food grows.

Whether you've watched Food, Inc., and wondered what's the solution, or are just wanting to learn more about the many positive changes that are taking place behind the scenes in our food supply, and how you can be a part of supporting this positive change and making it possible, I highly recommend you check out this short film. It's only about an hour long, and well-worth a watch (or two or three)!

You can find Fresh on Amazon.com and other online DVD retailers.

Be sure to check back next week as I get back into the swing of things - I'll have a doozy of a blog post for you on how I financed my honeymoon without going into debt - and how you can do the same for your own vacations and more!