As promised
last week
, I'm back today with a post about finances. I'll try not to rant
too
much in this one, but I can't make any promises! Some things just get me going, and irresponsibility is one of the big ones - health-wise of course, but also as it relates to finances - and our country has got to be one of the worst offenders in both categories. But it's not just this irresponsibility itself that really gets me; it's the assumption that this is totally okay, and a completely acceptable way to live! But let's get specific here - no sense in beating around the bush, right?
Here is a perfect example of what I'm talking about. I was standing in line at the bank one evening after work, waiting to deposit a couple of checks into my checking account. The bank branch I frequent is located inside a large grocery store, but they have their own little corner, filled with signs and propaganda for loans, home mortgages, and such. You know - the glossy brochures, "Ask us how you can own your own home today!", etc. Only the tag line they were currently using on their brochures was a blatant display of encouragement to irresponsibility, and I was rather shocked, not to mention disgusted, by the complacency of our populace that we just accept such a thing as a matter of course....

"Borrow for your dream!"

declared the brochures in large bold print. I might have actually chuckled out loud in disbelief. Our grandparents would roll over in their graves if they knew how much debt their grandchildren carry.... And not just carry, but lug along with them throughout their lives as a matter of course, without a second thought.

What ever happened to SAVING for your dream?? When was the last time you saw a promotion that said THAT?

A dream used to be something you worked hard for. Something you saved for for years and years, and when you finally saved enough to buy it, finally having it was so, so sweet. (Maybe some of you remember feeling this way when you were children, and saved up your allowance for that special doll, bike, model car, etc.) But nowadays, the mindset seems to be, why spend all that time saving, when you can just borrow the money, and have your dream now?

I'll tell you why: because borrowed money is not real money. People throw around credit cards like they're cash - but they're not. Borrowed money is not money at all - it's CREDIT, and there's a big difference, because credit always comes due. No matter how you shuffle around low-interest rate cards, choose zero-interest promotions, or try to work out some way that you will come out ahead of the banks and credit card companies, you never will. It will always come due at some point, and then you will have to pay up. Only by then, you've borrowed for 5 more "dreams," and it's a never-ending cycle. Borrowed money is not real money - it's a rope around your neck.

In fact, there's really only one good way to borrow - and that is to borrow from yourself. Huh?? What in the world does that mean? Isn't borrowing from yourself the same as regular spending? Not when done honestly.

Let me explain....

When you borrow from someone else, there is the necessary assumption that you are going to pay them back - whether it's your uncle, the bank, or a credit card company. That's what borrowing means. If you didn't have to pay it back, then it would be a
gift
- not a loan. The same goes for yourself. If you're going to "borrow" from yourself, you also have to pay yourself back. But in order to
borrow
money from yourself, that means you have to have some to begin with - which means,
first you have to SAVE!
(See
my previous post on money management
for how important saving is to a financially balanced life.)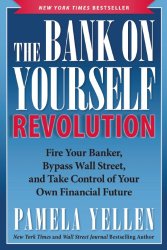 There are lots of ways to save - from "forced" retirement savings plans, to CDs and other fixed vehicles, to simple savings accounts at the bank. My favorite and most extensively used way to save is in a
Bank On Yourself
policy.
(We discuss Bank On Yourself in a bit more depth in our Free Holistic Living Report - Click Here to download your copy. Or you may also purchase
The Bank On Yourself Revolution
on Amazon.com.)
There are lots of reasons why I prefer this method, but for the purposes of this post, the most important is that it makes saving
easy
- you can make it so automatic that you don't even have to think about it - and it's also easy to access your money when you need to borrow it - for your dream, or anything else.
But what about interest? Yes, when you borrow, you are typically going to pay some type of interest. There are
very
few
truly
interest-free loans out there! In some cases, such as CDs and some other fixed accounts, you may not be able to borrow from yourself at all - at least not without penalties. However, when you can borrow, you are either going to pay some kind of interest, and/or you're going to lose out on any growth you would have gained on that money.
So yes, I do pay interest when I borrow from my Bank On Yourself plan. However, the rates are typically quite low - much lower than most other places you can borrow from - AND the interest I pay goes back to the general fund, some of which is usually distributed back to me later in the form of a dividend - AND I don't lose any growth on my account - no matter how much I borrow! In the end, interest-wise it's pretty much a wash, but remember, I also ended up with my "dream" - or whatever I used the money to purchase.
So essentially I became my own source of financing, and was able to purchase what I needed or wanted, without having to lose out on the growth of my savings, pay any penalties, or line the pockets of some credit card company that never did
me
any favors. And once I pay myself back - on my own schedule and at my own rate of payment, mind you - I am able to repeat the process again whenever needed - as long as I have the money saved. I'm never beholden to anyone, and no one is holding a rope around my neck - no matter what dreams I have.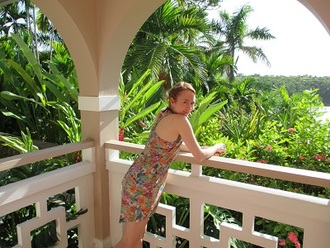 This year, my dream was my perfect wedding, and an awesome week-long honeymoon in Jamaica with my new hubby! So how did I finance that myself?
First off, I requested a loan from my Bank On Yourself policy (the one I started 10 years ago). To do so, I filled out a simple form (
very
simple - it basically just asked how much I wanted), and in about a week, the money was in my checking account. (I actually double-dipped for most of these expenses - putting them on my credit card to build up my airline miles - then paying them off right afterwards with my policy loan. I paid no interest on the credit card purchases this way, and by Christmas, I should have enough miles on my credit card for a
free
flight home to see my folks!)
That was it. Easy peasy! I make an automated monthly payment (at an amount that is comfortable for me) back to my plan, and my account continues to grow, even as my loan is still outstanding.
For our next dream, my husband and I are now looking to buy a house, and guess where the down payment will come from? If our new home needs repairs or upgrades, can you guess who we will borrow the money from? Definitely not from the bank encouraging us to "
borrow for your dream!
"
While the Bank On Yourself method may not be for everyone, there is one thing that is for certain, and that is, if you
are
going to "borrow for your dream," be responsible, and make sure you're borrowing
only
from yourself. Then be responsible and pay yourself back - with interest!
And it all starts with
saving for your dream
- live by your own code - a responsible one that says that, unless you have the money saved, you can't borrow it, you can't spend it, and you can't contribute to the code of irresponsibility that is currently crippling our great nation.
Happy saving!
Rose.
P.S. For more about how you can Bank On Yourself, check out
The Bank On Yourself Revolution
on
Amazon.com
, or for a detailed FREE Report on the concept, visit
www.findoutmorenow.com
- for the 4-Digit Code, enter:
JS35
.