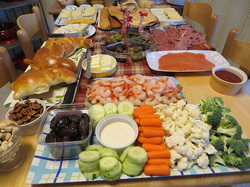 'Tis the season for holiday feasting, and visions of this week's Christmas dinner may be already dancing in your head. Unfortunately, for many people, along with the visions most likely comes the guilt. After all, we all "know" that this is the time of year when it is hardest to stick to our most well-intentioned goals for health and fitness. This time of year is when even hard-core dieters fall off the wagon, and the most passionate fitness enthusiasts find themselves putting on a few pounds. (Consequently, January is the time of year when all of those resolutions are resolutely made all over again - with the determination that, this year, we will actually stick to them.)

After all, between Hanukkah, Christmas, and New Year's Eve - not to mention the recently departed Thanksgiving turkey - this is probably the month when the largest amount of food is consumed per capita. And much of this food is of the richer variety. Cookies, candies, pies, and other sugary treats show up everywhere from holiday parties, to the office cafeteria, to the gifts piled under the tree. Turkey, duck, ham, and other rich meats grace our dining room tables, and side dishes packed with potatoes, yams, pasta, cream, butter, cheese, and other "guilty pleasures" are par for the course. Is it any wonder that we leave the holidays not quite fitting into last year's clothes?

Well, I'm here to tell you to stop feeling guilty! The holidays come around once a year, and it is perfectly fine to enjoy them. There is no need to put a damper on your enjoyment by chastising yourself for what you're eating - especially if you follow these three tips for delicious, healthy eating this holiday season.