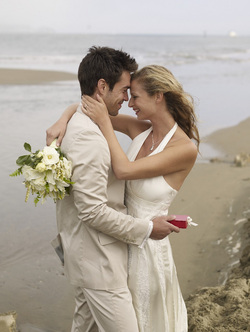 When you're single, it's easy to look at friends' marriages and think, "oh, when I'm married I'll treat my spouse better than that!" Or, "If I'm ever lucky enough to have a spouse like that, I'll never take him/her for granted!"

Then you get married, and you do all the things you never thought you would do...

You fall asleep snoring on the couch in front of the TV after dinner instead of sitting up playing Scrabble or laughing and talking and giving each other foot rubs - like you used to do when you were dating. You forget to kiss them hello when you get home from work, instead launching into a litany of complaints about your horrible day. You stop having sex more than once a week (or month).

And if you have kids, it just makes the equation more complicated - although it doesn't take kids to start taking your spouse for granted.

We all think we will be better at marriage than our parents, or our friends, or our co-workers, but the truth is, marriage is work! We don't really understand this when we're single, but once you have made that commitment, once you have made a home together, commingled all of your stuff, and started really noticing all of their annoying little habits that you ignored before you were married, it gets way too easy to start taking each other for granted, and to stop doing the special things you did together - or for each other - when you were just dating. Especially in today's crazy-busy world, when it seems you work all day, run around doing errands all weekend, and at the end of the day, all you want to do is just go to sleep!

But there is a reason you got married to your spouse in the first place. There is a reason why so many of us all over the world choose to marry our lives with someone else's. Human relationships and connections are necessary for our health, our personal growth, and our happiness. And the person you married is still the person you married - even with all those habits that now annoy you so much!

If you're feeling stuck in a rut right now with your significant other, here are 6 ways to shake things up a bit, rebuild your connection, and remind them (and yourself) of how important they really are to you.