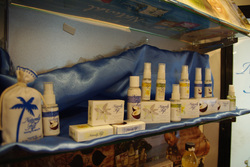 You may know that most commercially available personal care products such as deodorant, lotions, shampoos, and even toothpaste are packed full of hundreds of chemicals. While most of these are "generally recognized as safe" by the FDA in small doses, what we don't really know for sure is what the impact of these chemicals may be on our health over time, with repeated use, and in combination with each other.
That's why, several years ago, after reading a truly eye-opening book, I started switching all of my personal care products to all-natural and organic versions. (You can find some of my favorites in our Recommended Products section.)

I am very happy to see so many of these types of products gaining market share, as it shows that people really are starting to wake up to what they're putting in their bodies, and making a choice to take back control of their health. As more people purchase these products, and more companies make them, the price has already started to come down, and many of these products are just as affordable as their chemical-laden counterparts - at least for the higher end stuff.

However, some of the better all-natural products still remain somewhat expensive, or at least they're perceived that way. That's why it's great that you can make many of your own products at home, yourself, for a very minimal cost. Plus, when you make it yourself, you know exactly what's in it!

This week, just to mix things up a little, I thought it would be fun to share a couple of all-natural recipes for common personal care items that you can actually make at home, using simple, inexpensive ingredients like coconut oil and essential oils. They're very affordable, easy to make, effective, and safe.

Let's start with toothpaste...