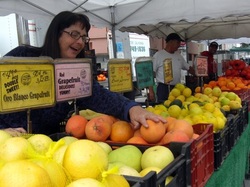 You've probably heard the recent "buzz" about eating locally grown foods, and how much better it is for the environment - not to mention your community. In fact, if you've spent much time on this blog and website, you probably know we're huge fans of the local food movement.

But one of the most common objections to the "eat local" campaign is that it's impractical for the majority of Americans. After all, since the Industrial Revolution, and the mass population movement from country living to city life, a good part of our population resides in urban or suburban areas.

How are these cities - especially the larger ones - supposed to feed their entire populations with food grown within 50-100 miles?