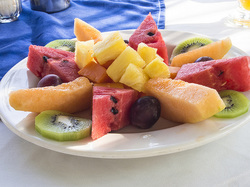 We've all heard how much healthier organic foods are for you, but we also know that buying only organic foods can get pricey pretty quickly. If you want to make your food dollars work efficiently for you, and get the most bang for your buck, so to speak, while still taking care of your health, there are a few strategies you can use to eat healthy without going broke.
We've shared some
tips for saving money on organic food
in previous posts, so I won't cover those again here today, but be sure to
check those out
as well. (Of course, the best way of all is to grow your own food! But we'll save that for another day.)
One great way to make sure you're eating healthy is to choose whole, unprocessed foods. Processed foods command a premium, as we have previously mentioned. You're paying a lot for someone else to process and package your food for you - and in the process, you're also losing nutritional value. Whole, natural, unprocessed foods are cheaper by the pound than any seemingly "cheap" processed items you can buy - and better for you, to boot. Want to save money on food - and eat healthier? Buy the fresh, unprocessed ingredients, and make it yourself!

But another thing to be aware of is that some foods are more important to buy organic than others. You can strategically save money and still buy and eat healthy foods, if you know which non-organically raised foods to avoid, and which ones are okay to eat. That way, you can put the "organic" portion of your food dollars towards foods that really shouldn't be eaten any other way.