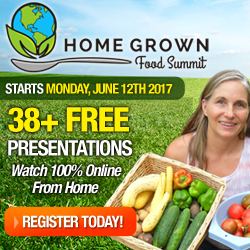 Welcome to June! For this month's "free giveaway," we're handing out tickets to an amazing event that anyone who is interested in real health, self-sufficient living, or making sure that the food you feed your family is safe and healthy will NOT want to miss!

That's right - registration is now open for the
3rd annual Home Grown Food Summit
.
This awesome event kicks off Monday, June 12th, and it includes presentations from more than 38 experts on food, homegrown and natural medicines, homesteading,
urban gardening, raising livestock for dairy, eggs, and protein, and many more health and self-sufficiency topics - plus, you'll have the opportunity to win some really cool prizes for your homestead! (See below for details.)
Get your FREE Ticket here
, or learn more about the event below.