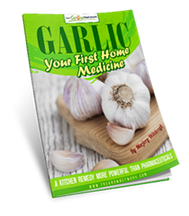 Whew! Things have been pretty serious around here for the past couple of weeks (if you haven't checked out the last 2 posts, I highly encourage you to do so - it's a very important topic for everyone), so I thought we'd take a little break this week with a fun giveaway!
This free gift actually ties in quite nicely with the new model of health we've been discussing over the past two weeks, in which individuals will play a greater role in their own healthcare through learning about and using more natural and traditional means of healing.

You probably use garlic in the kitchen quite often (I know I do!), but did you know that garlic has many healing properties, including the ability to help boost your immune system and fight off infections like colds and the flu?

Learn more below, and grab your FREE copy of this awesome e-book today!