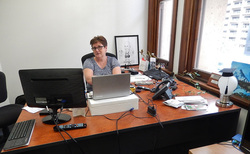 No, I'm not talking about how much you hate your boss, or how much your job stresses you out. I'm also not talking about those who have obviously dangerous jobs and are exposed to large amounts of chemicals during a regular workday. What I'm talking about is something much more insidious, as it is only just beginning to be recognized as dangerous to your health.

I'm talking about sitting at a desk all day.

If you're anything like me, you are in front of a computer for 8+ hours on a regular work day. While a few offices have recently enacted standing or walking desks for their employees, they are by far the minority. And most people, after sitting at a desk all day, then come home and sit in front of the TV for several hours.

You may think the only harm this is doing to you is an aching back and a stiff neck, but researchers are finding this isn't the case. In fact, sitting for long periods of time - as so many of us do in today's modern world - is linked to all kinds of diseases and health problems. There's even a popular new term being used to describe this phenomenon; it's called "sitting disease."

If you're one of those people who has a desk job, you are at high risk for sitting disease. Read on to find out why this is so bad for your health, and what you can do about it....