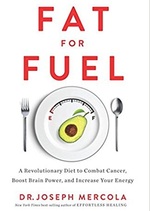 Modern medicine wants you to believe that it holds the answer to disease, but if this is true, why aren't we healthier? In fact, today we suffer more chronic and debilitating diseases than ever before.
More than half
of all Americans struggle with
chronic illnesses
, and 1 in 5 deaths in the U.S. today are obesity-related.
So what is the key to this problem?

Many researchers now believe that the increase in chronic modern illness and disease over the past several decades is
largely the result of an
inappropriate diet
. (Surprise, surprise, right?) Most of us eat far too much sugar (and other simple carbs), and far too little healthy fats and fruits and vegetables.
Part of the problem is that we have been told for years that our bodies should run on glucose for fuel, so we need to make sure to consume plenty of carbs.

However, in the interesting video below, Dr. Joseph Mercola discusses some fascinating findings that suggest that fats are actually the preferred fuel of the human metabolism. By correcting our carb/protein/fat ratio in our diet, he contends that we can maintain long-term good health, especially when it comes to avoiding or even curing modern diseases such as diabetes and cancer.