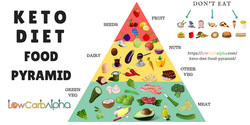 If you've been reading this blog for a while, you may have noticed that my dietary philosophy is, well, "sorta Paleo." You probably already know that I'm not a huge fan of fad diets. In general, I think they do more harm than good, though I do acknowledge the benefits of following certain strict diets (i.e. vegan, grain-free, etc.) for a specified period of time for cleansing or elimination purposes. And of course, for those with certain health issues, completely eliminating certain foods may be advisable or necessary.

But I'm always interested to hear what others in the health community have to say about different diets, so I was curious when I saw a recent blog post by author, blogger, and natural health expert, Robyn Openshaw about "Why Ketosis (and Paleo) Diets Will Fail." I have been following Robyn for several years, and I respect her opinions and her work, so I thoroughly read her post, and it was interesting enough to me that I actually wrote a response, which I don't often do on other blogs.

Below are some of Robyn's assertions about the ketogenic and Paleo diets - as well as my response...