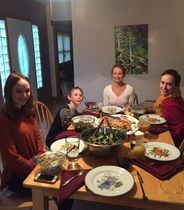 It's that time of year again!
Yes, it's time for my annual Gratitude List - the time of year when I reflect on the many blessings I have received over the previous year, and give thanks for the abundance of goodness I have experienced this year.

While I am grateful for many of the same things every year, each year I find there is a certain area of life I am especially grateful for. It is always interesting to me to review the previous year's list, as I find that my focus has changed over the past year as I have learned to appreciate new and different things.

This year's focus has been a bit different from last year's, as I've really been realizing just how important some of these amazing people are to me...