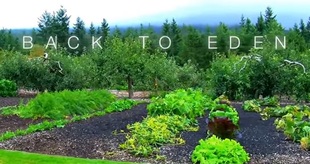 A year or so, I was introduced to an interesting concept popularized by the gardening documentary, "
Back to Eden
."
In short, the concept is that God (or nature) grows plants perfectly and with no effort, and
we
have made gardening difficult by trying to change things and go against the way that nature works.
This appeals to me in a number of ways. Being a believer as well as a very curious person, I am always interested in learning more about how God works in the world all around us, and why things are the way they are. And of course, reducing the work it takes to maintain our large garden is always a welcome blessing! So I watched the movie and found it very interesting and inspiring.

We haven't truly implemented this system in our garden just yet, but I think we are starting to move in that direction. Here's what I learned from the movie, and what we have done with the information so far...