"You know you came from it...and someday you'll return to it."
"Dirt" -- Florida Georgia Line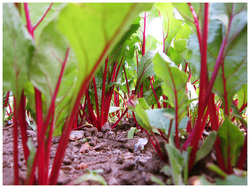 In our overly sanitized, sterilized, anti-bacterial-focused modern world, it seems that one of the things humans most fear is dirt. And it is no wonder, as for many years of early civilization, diseases were closely linked to hygiene, and cleanliness (or the lack thereof) was often to blame for the spread of many dangerous illnesses. So indeed, we have come a long way. But we must not forget that dirt is also a necessary part of life. and in fact, none of us would be alive today without the life-giving properties of good soil.

Growing up on a farm, this is something that is pretty obvious to me, but for those who did not have the close connection that I had with the earth beneath my feet, it may not be your first thought when you think of food. But whether you are vegan, omnivorous, or some other label you give yourself - no matter what your diet is like - everything that you eat at one time, in some form, came from the soil.