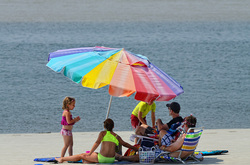 These days it's hard not to want to just sit around with a cold glass of lemonade and pop in a little summertime playlist like
the one I'm listening to right now
...
Unfortunately, I've still got loads to do in the garden - weeding, mulching, staking tomatoes, not to mention finishing off the last couple of beds so I can get the last few plants in - it never ends. With all of this going on, it's no wonder that winter seems a lot more conducive to blogging!
But I did muster up a good topic for you today. In fact, it's one that's just perfect for summer....

As we've been invited to two outdoor barbecues next weekend, I'm already planning to make sure I bring along plenty of sunscreen. But did you know that wearing the wrong sunscreen can actually be just as bad for your health as wearing none at all?