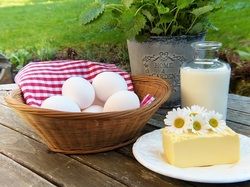 Despite much
evidence to the contrary
, most people still believe that high-fat foods are bad for you. In fact, foods high in healthy fats (in moderation of course) can be an important part of a healthy diet. Some even offer some surprising health benefits, including enhanced immunity to illness, more energy, better brain function, and even better weight management!
A recent study conducted at the University of Georgia found several health benefits associated with healthy high-fat foods. The team analyzed several previous studies that focused on the health benefits related to consuming different foods high in healthy fats.
The 5 foods listed below are some examples they found of high-fat foods that may be consumed in reasonable amounts on a regular basis to help you maintain good health.