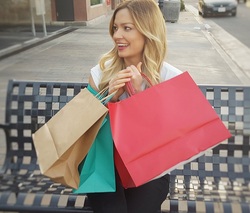 As I was driving home the other day, the passenger's seat piled high with bags of rice noodles, soy and fish sauce, coconut milk, and other goodies from my quarterly trip to the Asian supermarket (stocking up for light summer Thai soups & curries!), I began reflecting on the peculiar pleasure that comes from shopping.

We all know it's fun to shop - heck, some even call it "retail therapy" it feels so good! Sure, there are some people who go overboard with it - even becoming "addicted" to shopping. (And I'm not making light of that at all - it can be a very dangerous problem that can get people into a lot of financial trouble.) And in some cases there are deeper psychological issues at work. But in general, we all just like to shop!

So why is that, exactly? What is it about spending money or buying "stuff" that gives us that little jolt, or "rush" if you will, of satisfaction?