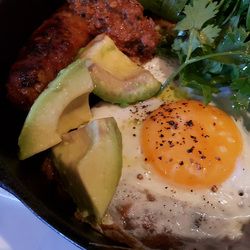 A common New Year's Resolution is to eat healthier, but of course this often doesn't last long, as over the years, we seem to have developed a warped sense of what is actually "healthy" when it comes to food, and what we think of as "healthy" often doesn't taste all that great. After all, who wants to eat "low-fat" (i.e. low-flavor) foods all the time? The good news is, truly healthy food tastes awesome! So you can actually eat well, and enjoy your food! But first you have to learn how to tell what healthy food really is - which is one of the reasons I started this blog in the first place.

A great example - and one I will explain in more detail today - is the oft-vilified egg. I have defended eggs on many occasions, but I haven't written about them in a while, and I thought it would be a good topic to revisit, with all the talk of healthy eating going around at the start of the new year.

So just why did eggs get such a bad rap? And what is the real deal with cholesterol? Read on to find out the truth about eggs - and what they actually do for your health....